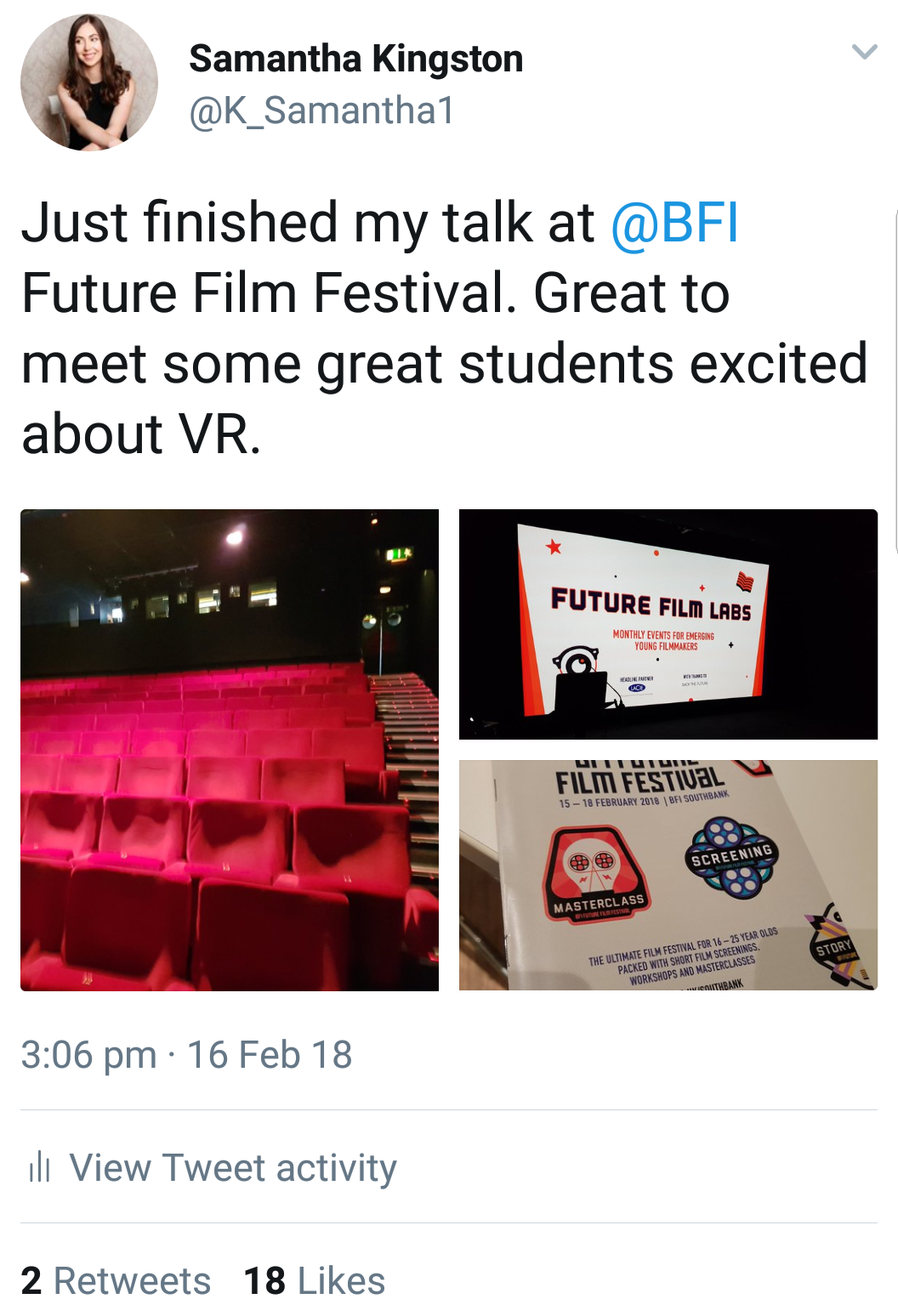 I was very excited when I got invited to speak at the BFI Future Film Festival.
Of course, there is a close connection with the film world and VR, which is becoming closer but I love being able to be involved in events which are not directly related to VR. It's a great opportunity for new conversations and meet some fantastic people.
The BFI Future Film Festival is an important event for young, emerging filmmakers, looking to inspire people to make films and provide them with industry insights that you need to pursue a career in film, TV and creative industries.
Aimed at 16-25s, the festival is jam-packed with activities, even though I am not apart of the Film world I really wanted to stay for the full three days and listen to all the talks.
One of the most relaxed conferences I have ever been. Normally there is a bit of running around like headless chickens when it comes to conferences, especially when you are a speaker but everyone was calm, relaxed and incredibly welcoming. I got to sit in the green room and listen to actors and directors discuss films, careers and more. It was a fantastic insight and I did not feel out of place at all.
I was the only VR talk that I could see on the list of talks and panels so I thought I would take the opportunity to put my passion hat on and really talk about my love of VR. With a lot of VR events, it can feel like you must have something new to talk about, technical or a brand new piece, but it's always great to go back and talk about "Why we chose VR".
I decided that I would give a brief introduction to storytelling in VR, careers in VR and then discuss a couple of case studies, that I have really enjoyed seeing/ working on in the past couple of years.
Here are a couple of slides from my presentation for you to look at:
I had some great chats with the audience afterwards and feel like I made a little bit of an impact at the event. I would love to speak there again.
Here is a link to my live streaming if you would like to watch it here. 
Here is a link to one of the attendees who describe their first day (mentioning my talk which I am very grateful for):
If you want to hear more about the talks that the Virtual Umbrella team does, let us know!