40 people to follow on Twitter in the VR industry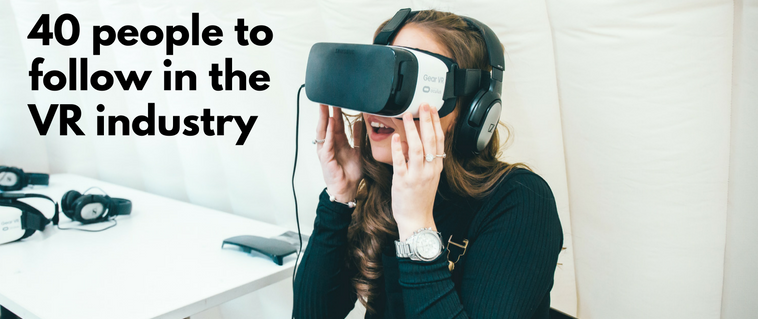 Everyone else was publishing a list, it's probably time we did too.
This list isn't based on questionable metrics like "people who used #VR in the most tweets" or "How many followers x relevance to the industry x how many tweets they do".
This list is based on our personal opinions on who to follow on Twitter in the VR industry. We've listed people who are active online and contribute to the VR community and conversation online.
We've been in VR since the DK1 days and we've met a lot of people both offline and online so we feel like we're qualified enough… And lets face it, if you don't agree with us, you don't have to follow them.
Just before we begin, there is no specific ranking to this list. It's just a list of our top 40!
(psst, the names are links. They take you straight to the person's Twitter page)
CEO of Cubicle Ninjas and genuinely one of the nicest people in VR. He's our christmas card list.
Creator of the Voices of VR podcast. If you're looking for in-depth chats with creators, innovators and awesome VR folk, then give him a follow.
One of the most enthusiastic and inspirational people in the VR community. Sarah is the co-founder of VRGirlsUK and is a huge advocate for VR for education.
Managing Director of REWIND, one of the most successful non-gaming VR studios in today's market. Also continually speaking around the world at conferences, spreading the good word about VR.
Editor of Gadgette and all-round technology smart person, Holly is a great follow is you're looking for news on tech and honest opinions.
Editor in chief and Co-founder at Upload VR, Will is living on the cutting edge of the alternate realities industry. Follow him to see his daily adventures in the industry.
CEO and Editor in chief at VRFocus, Kevin spends his time travelling between events, conferences and interviews. Follow him for his opinion on the emerging VR world.
Nathie is one of the leading VR youtubers, he often tweets his opinion of games and experiences. If you're looking for an honest voice in amongst the noise of company marketing and industry news, give him a follow.
One of the big hitters in the industry, Helen works tirelessly to educate the world on the benefits of VR. Shes also a big advocate for diversity and is continually empowering women in VR to follow thier dreams.
VR enthusiast and VFX animator. Bruce is great follow if you're seeking a good conversation about tech.
Her tiltbrush drawings are bloody amazing. Shes one of the best creators out there at the moment.
Partner at The VR Fund, Tipatat invests in and help build great vr content. His roots in games development are clear when you see how talented he is at Tiltbrush and Oculus Medium.
Former-Oculus turned advisor, Shauna brings a wealth of knowledge to the VR scene and currently working to help developers create content for enterprise level VR and education.
Insanely talented, Jessica is one the key figures at Google for VR. She works with 360 video and if you're a creator, make sure you connect with her.
Want to stay up to date with the behind of scenes at Upload VR and the adventures of a super talented entrepeneur? Follow Elizabeth. Her dog is also gorgeous, we love you Moo!
Technical Marketing @ AMD – Jason comes from a background in tech journalism with credits at Forbes and TweakTown. He's a really lovely guy and always willing to help in anyway he can.
Very smart guy doing what he can to help the VR industry. Be sure to check out his profile and read his well-written and researched Medium posts about VR.
Co-creator of Tiltbrush. Follow Patrick for the latest updates on Tiltbrush and other cool stuff!
For a while she was London's only female VR director. Her insights into VR production and 360 video are second to none.
Co-founder of SHIIFT and the Women in VR group, Jenn is a tireless advocate for diversity in tech.
Unbelievably pumped on VR at all times, Eva has boundless amounts of enthusiasm and energy for the industry. A gif she made also reached the top of Reddit once, I hope she puts that on her résumé.
The most badass civil servant you'll find in the VR space, Marisol find ways to use virtual reality to help International Development for the UK Governement and is the founder of @VRWomen.
His twitter profile picture is a dog, however after intense and very costly research, we can exclusively reveal that Simon is actually a human. He looks after VR & Interactive Storytelling for the BBC.
Founder of Blaze VR and super lovely VR creator. Sherrie can often be found at VR hackathons or the beach.
Follow Byron's journey as he continues to document and work on Caretaker, a virtual reality game available on Steam. We love his insight and see the behind the scene of his creative process.
A leading creator in the filmaking space, Ed calls himself an 'Interactive Imagery Specialist'. He also has an exciting new AR startup that he's working on.
CTO @ Breaking Fourth, Pete looked after the technical development of the critically acclaimed 'Ctrl'. You can often find him on a stage talking about the 'art of storytelling using virtual reality' or collaborating with the team on their future productions.
Tim is the creator of Sluggy's Fruit Emporium. Follow for updates on development and hilarious videos / gameplay tests. Sluggy is probably the cutest, cyclopian creature we have ever seen.
'UK Guy' for Upload VR. We don't know what his proper job title is either ¯\_(ツ)_/¯ . Jamie is one the UK's most prominent VR journalists.
Part of the Greenlight VR team, Clifton is great source of insight and knowledge into the market research and analytical side of the VR industry.
Known internationally as 'VR Sam', Sam Watts is Operations Lead at MakeReal, a VR studio based in Brighton, UK. He more well known for being part of the team that created Radial-G, one of the best known VR racer games on the market.
Freelance journalist and editor for Develop Online, Jake is a valuable source of knowledge with his extensive knowledge of the VR & games industries.
Operations Manager for VREAL and organiser of the Seattle VR meetup. Also a strong believer in the Women in VR message, just check out her Twitter bio.
(She also reached out to me directly to put things right when I accidentally mixed some names up. Kayla, you're the real MVP.)
CEO of Curiscope, a VR & AR start-up looking to change the way we do education. Super driven, super friendly.
Managing Director @ Gestigon, Moritz is often found on stage talking about the human interaction technology his company creates. Also, you know that picture of Obama with a google cardboard? Yeah the one with the googly eyes. That was using Gestigon's technology!
World famous for her work in VR and filmaking. Nonny is nicknamed the Godmother of VR!
Host of the RealVirtualShow and part of the VRScout team, Malia is very active online and always keen to chat.
Lead Designer and Co-Founder of Oculus Medium, Lydia is a sure fire follow for VR creatives who want to make amazing things.
VR influencer in Europe, Sami is the Co-Founder of GlitchVR and runs a VR lab as part of the VR First initiative.
Senior Evangelist at Unity, Josh travels around Europe teaching games dev and showing people how to use the Unity engine for their development. He also made it into Develop's 30 under 30 so you know he's the real deal.
VR developer and serial game jammer. She's always reposting great content from fellow VR folk and has some great insights into the latest VR games.
Tech genius and part of the team who launched the HTC Vive. Most recently he's been touring the world with an amazing mixed reality Vive setup. One of those people where you go 'I wish I had his job'.
Co-Founder of WoofbertVR, Elizabeth is working on some really amazing stuff to bring art to everyone with the power of VR.
These two made Fantastic Contraption. One of the must fun games on Vive. They're also part of the driving force behind the advances in mixed reality capture.