50 VR Professionals to keep an eye on for 2020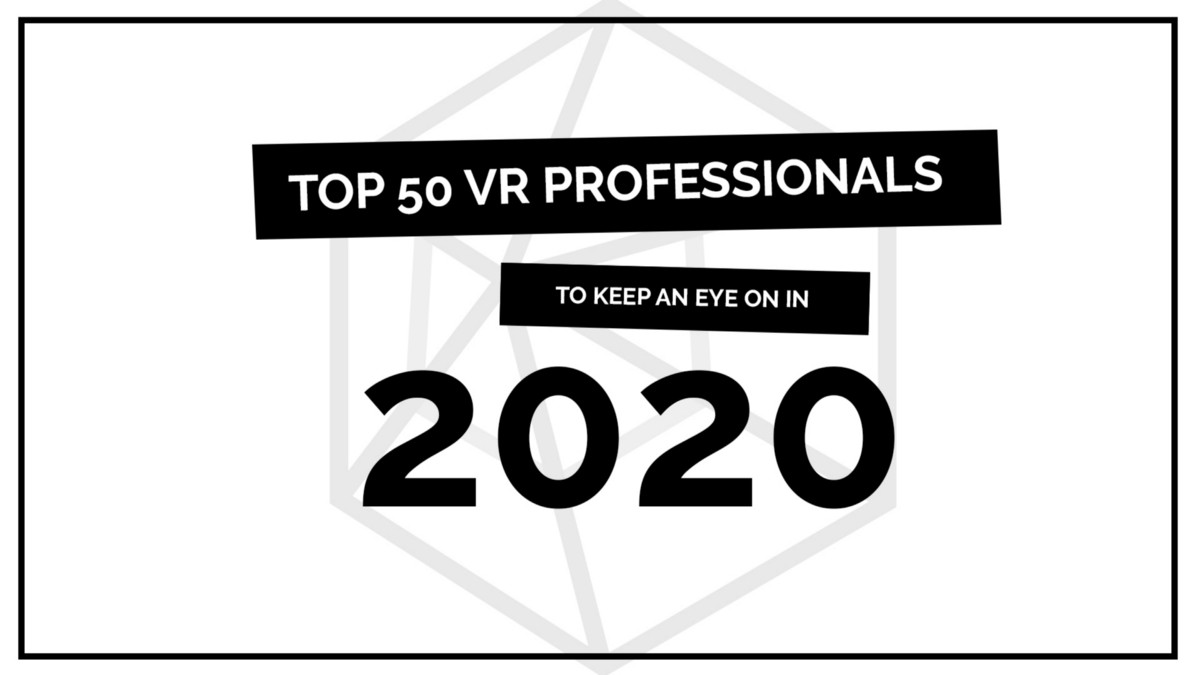 The list has always aimed to be reflective and include names who have done impressive things over the previous months. This year, we've taken a slightly alternative approach to look forward at the upcoming year.
These fifty VR professionals we've compiled have amazing things planned for 2020, so make sure to follow them on Twitter and keep and eye out for their exciting work.
---
Suzanne Borders
As the CEO of Bad VR Inc, her mission is to make data more accessible using immersive technology. She's a superstar data whisperer and whizz at all things dataviz.
Lynn Rosenthal
Ever seen a VR experience on your way to a flight Lynn Rosenthal from Periscape VR leads the way in bringing the very first VR experience centres to airports.
Nancy Baker Cahill
Nancy is a multi-disciplinary artist, dedicated to using AR to explore resistance and inclusive creative expression. Her app provides a platform for #AR public art, bringing augmented reality exhibitions to users across the world.
Galit Ariel
Galit is a public speaker and thought leader and writer of Augmenting Alice — The Future of Identity, Experience & Reality — analysing challenges that the future of AR will bring.
Morgan Mercer
As the CEO of Vantage Point, Morgan is on a mission to change the world — using virtual reality to provide cutting-edge sexual harassment training. Feat. in British Vogue, WIRED & more.
Nell Waliczek
At the cutting-edge of innovation, Nell is a multi-talented powerhouse. She previously worked on AR/ VR at Microsoft and currently works on #AmazonSumerian, driving the engineering side of immersive tech.
Anne Marie Enz
Anne lends her experience as the CEO @pulledin to help produce VR events, particularly in Vancouver where she is a VR/AR Global Summits board member.
Ben Hylak
He's worked with names like SpaceX, Google AR/VR and Anroid. And he's currently augmenting it up at Apple .But our fave project of his is Remi – an AR experience designed to make cooking easier & safer.
Anna Zhilyaeva
One of the most established VR artists in the world (clients include Vive, Google, Tilt Brush & Microsoft), Anna does live performances and mixed-reality videos of virtual art.
J Dakota Powell
A cutting-edge artist, writer and director who has created Time Waves Studio – a transatlantic collective, gathering creative media artists to explore tech & storytelling. Definitely one to watch.
Brian Wong
Brian is the second member from Bad VR Inc. He is looking into brain-computer interfaces to explore the future of interactions.
Curtis Hickman
As the Co-Founder & Chief Creative Officer at the miraculously immersive, Void VR. Curtis sure lives up to his namesake. The Void's Star Wars experience? Amazing. Their impact on on-site VR entertainment? Amazing.
Sadly Its Bradley
Bradley is a #VR streamer & YouTuber. Subscribe for:

Unboxings, Playthroughs, Trailer reactions & more.
Darren Emmerson
Darren is a groundbreaking producer, director & co-founder of East City Films & VR City. His projects are all about emotion, using VR to help us get closer to emotionally transformative experiences. They're moving, important, and inspiring.
Emily Olman
Emily co-founded Spatial First  — an app that shows real estate using 3D mapping and contextual information. She recently won Startup to Watch 2019 at AWE.
Soraya Jaber
Lack of coding experience can feel like a real barrier to entering immersive tech, so Soraya, the CEO & Co-Founder of Opuscope, allows anyone create AR experiences without needing to know how to code.
Emily Smith
Ever in a new city and want an AR tour? Emily helped create an app that allows tourists to learn more about the cities they explore with ON-FOOT Tours.
Kyle Melnick
Kyle is the editor of Immersive technology news publisher, VR Scout. Kyle shares personal insights into the immersive space on his active twitter account.
Adina Shanholtz
Fey is currently a software engineer at Microsoft. She uses her experience in VR and MR to help with programming.
Denny Unger
Denny is the CEO of Cloudhead Games — the creators of one of the year's best VR games… The brilliant PistolWhip!
Ray Soto
Ray is Pulitzer-winning Director, with former work at EA and NC Soft. Now Ray is killing it at Gannett and USA Today as Director of Emerging Tech.
Tara Reddy
After working at Blippar, Tara is now the CEO & co-founder at Loveshark, exploring game play with the use of cameras.
Di Dang
Di is an experienced emerging tech design advocate who works at Google on the latest technologies such as VR, AR and 5G.
Guy Godin
Ever wanted to work on your desktop in VR? Guy developed the solution called VR Destkop. He is currently working on new versions for Oculus Go / Quest.
Cory Corvus
Want to keep up to date with all things HTC? Cory, who previous worked at WITHIN) regularly shares insights as their Developer Relations Engineer for HTC Vive on his social channels.
Brannan Spiegal
As a VR doctor, Brennan Spiegel uses immersive tech to help heal others through Cedars Sinai — an international leader in providing the highest quality of patient-centred care.
Isabel Tewes
Currently working at Oculus, Isabel regularly shares her insights into businesses and working in a team, including self-help and excelling on her twitter account.
Amber Roy
Amber shares cutting edge insights into Oculus. His current role is the Engineering Lead at Facebook, working on the Oculus Quest.
Damon Hernandez
Damon is a WebXR expert working with Samsung's Developer Advocacy program to develop the platform. He is a self-professed VR/AR/Mixed Reality nerd & hackathon geek.
Jazmin Cano
Jazmin is the User Engagement Manager at High Fidelity. She looks at social Virtual Reality, exploring how users interact with one another in immersive environments.
Drash VR
VR/Unity developer, Drash, has helped develop several space titles including the fantastic Apollo 11 VR.
Lars Bergstrom
As Mozilla's XR department Mozilla Reality, grows in prominence, Lars is great to follow for WebXR thoughts and insights.
Lauren Cason
Lauren is a prominent AR and app developer with previous work on hit games like Monument Valley 2. She now works as XR Creative Director at Meow Wolf.
Samantha Gorman
Heard of the games Virtual Virtual Reality and PRY? Samantha is their writer and director as the co-lead of Tender Claws.
Andrew Nelson
Andrew, known as Half Full Nelson is a VR/AR/Game developer who shares his insights into working on immersive platforms, including the BlockAR and the HTC VIVE.
Cy Wise
An established leader in gaming VR, Cy has worked on AAA games and helped lead Owlchemy Labs Studio Director. They've now started their own venture at Absurd Joy to create new playful experiences.
Vladamir Storm
Vladamir uses immersive media to create creative music videos online. Follow him for his current progress and scans.
Viktorija Mickute
Viktrorija has pushed the envelope with immersive films. Al Jazeera's ContrastVR has been nominated for multiple awards, inc. an Emmy for its use of 360 to capture the war in Yemen.
Amy Doherty
A writer, director, and developer, Amy makes VR Movies out of Perth. Her most recent being Ghost Cam VR.
Dee Harvey
Based in Ireland, Dee Harvey is the Director of IF, an immersive movie about going through the infertility journey.
Ben Kreimer
 Technologist Ben, specialises working on 360° video, VR & drones, with a lot of expertise on how to film on-site. He's a Journalism 360 ambassador and Forbes 30 Under 30 for Media 2019.
Jaroslav Beck
Jaroslav is the co-founder behind Beat Games Studio, one of the most successful VR studios in the industry. If you haven't tried Beat Saber yet, clear your weekend. No. Literally.
Chloé Rochereuil
If you're a fan of documentaries, Chloé is the co-founder of the amazing Targo Stories. Past immersive docs include: The Wings of Mosul and the Overview Effect.
Manuel Clément
Manual has previous held positions at Daydream, Waymo and Microsoft. He's now moved teams to help Google with other ventures including Stadia.
Rosie Summers
A professional Tilt Brush artist, live performer & 3D Animator, Rosie is a creative & artistic powerhouse. Be inspired.
Chris Madsen
Want a deep insight into social VR? Chris develops and explores how our interactions change in immersive spaces.
Kate Parkinson
 A journalist turned VR creator who's an expert at telling stories & building story worlds. She's an inspirational leader & the co-founder of Also Known As: a VR storytelling, research and human-centered design studio.