Virtual Umbrella @ Develop:VR 2016
There has been a variety of VR events this year and we have always tried our best to get to as many as possible.
The Virtual Umbrella team headed into London for the first Develop:VR event – we have been a big fan of Develop Conference down in Brighton so we were looking forward to this.
I personally spent a lot of my time in the expo room with all the exhibitors, including Rewind showing the Fove headset and Home on the HTC Vive, Make Real, Breaking Fourth, Pystec Games and the BBC showing the Easter Rising. We have had the pleasure of showing Easter Rising at a range of events including Imperial War Museum and Edinburgh Digital Entertainment Festival – we recommend you try it out.
Our Managing Director, Bertie took the stage during the day at Develop:VR to talk the good the bad and the ugly of marketing Virtual Reality. It's has been such a busy year for VR and was great to be able to reflect across all the major headsets and consider their promotion, product, and price when it comes to marketing.
In case you missed it, below is a download link to the slides that were covered during the talk.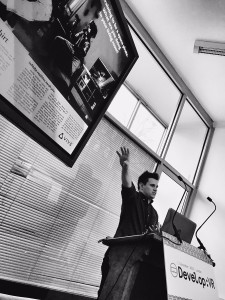 Bertie taking the stage at Develop:VR
Download the slides here: Develop:VR Slides – Bertie Millis
If you want to keep up to date with what events we are at follow us on Twitter @VirtualUmbrella