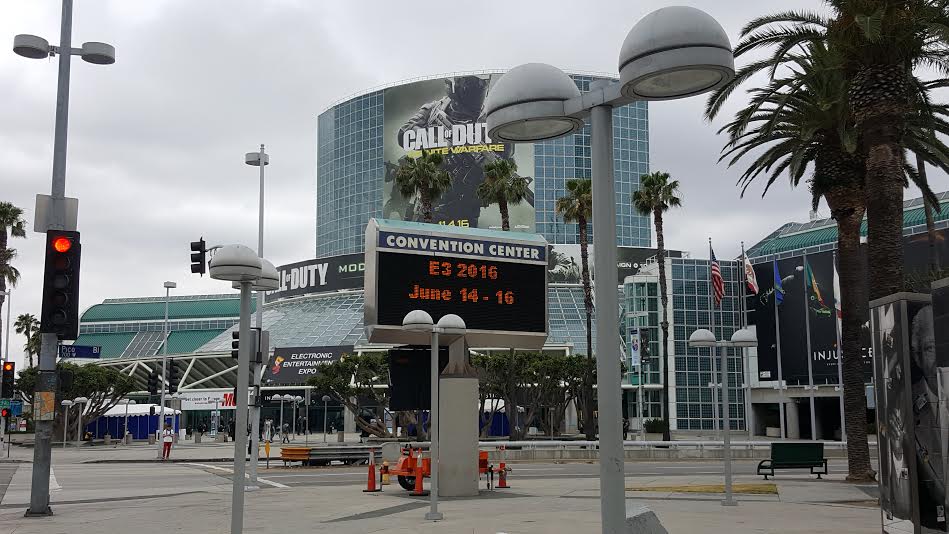 This year's E3 really did bring VR to the show floor this year. 2015 saw virtual reality hitting up the indie sections and with a couple of VR announcements it got me excited, but this year it felt like everyone was jumping on board. VR content and headsets could be found around every corner of E3. I was super excited to see HTC VIVE tents being set up inside and out of the conference. 57 companies exhibited at this year's E3, not forgetting about all the great press conferences where VR was definitely a focus.
The buzz around VR for E3 was infectious, listening into conversations from first time VR users to veterans in the field – it was all super exciting.
There was so much content and news to soak up but I am going to focus on a couple of areas that really got me hyped at this year's event.
Guided Mediation VR on HTC VIVE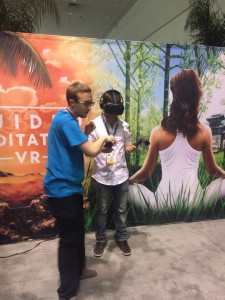 Cubicle Ninjas' most recent VR application, Guided Meditation VR has been out on GearVR for almost two weeks now but we were fortunate to get the chance to try the build for HTC Vive, which is still development. The GearVR app already uses photo-realistic environments but the much higher screen quality of the Vive meant I truly felt like I was in another place. Being able to walk around also heightened my immersion as I could begin to interact with the peaceful and beautiful world around me.
Star Trek VR & Touch controllers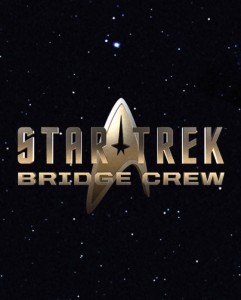 Bertie and I were lucky enough to have the opportunity to experience a demo of Ubisoft's new Star Trek VR game. We were brought into a room with one other crew member. We were each assigned our job titles/ positions in the crew. I was the engineering controlling the power levels, shields to the ship, checking the damage levels and being able to warp the ship.
The experience allowed you to play with other people, working as a team to control the ship. This was one of the most enjoyable experiences I have had in VR. As well as the social experience, being able to talk to each other and really work as a team to complete the task was most enjoyable for me.
The Star Trek VR can be played with multiple players or with a single player. Imagine playing with friends from across the world.
New headsets – Pico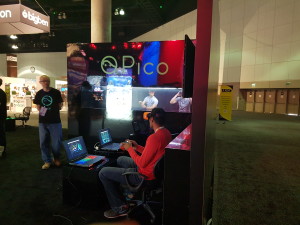 The E3 floor brought lots of different VR content to the consumers. I did see a couple of new headsets dotted around the floor too. Some very much in development mode, but it's still great to see so many people want to venture into creating VR headsets.
The one that got my attention, most likely because of its bright orange setting was the Pico. Listening to the conversations at the booth, Pico Technologies is a company based in Beijing and their focus is hardware and software. I didn't get to try out the headset during my visit but I will keeping an eye out for it this year.
360 domes
The was a huge space made available for some 360 dome set ups. I am a big fan of these (if they have the right kind of content) and have seen them at several events In the UK. They are a great tool, I didn't manage to see the content that was being shown but the area always appeared busy. Did you try them out? Let me know what you saw.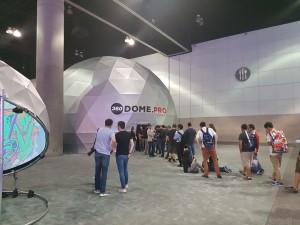 Rebellion – Battlezone & PSVR Headset
I feel like the only one in the UK VR community to not yet try Rebellion's Battlezone. I finally got my chance to try it out. I was not really sure what to expect, the team had been good enough to keep the info hidden from me as I wanted the full experience.
It was also a chance for me to try out the PSVR again. The PSVR headset is the only headset that has made me feel quite sick while using VR, but I was willing to give it another chance. I was really surprised by the clarity and I really enjoyed the demo for Battlezone, the introduction was smooth and great especially for teaching gamers/ first time users how to use the controllers correctly.
I really enjoyed the layout and the setup of the cockpit which I sat in. I really felt the force of being shot at and gliding through the level to avoid and destroying the enemy. I had far too much fun being shot at, feeling like I could swoop out of the way using my head (does not work). The demo also revealed some future levels of Battlezone which I can't wait to try out.
Bethesda VR

It wouldn't be E3 without some cool announcements, for me I was on the lookout for the VR ones of course. Bethesda really stood out to me. Bethesda announcing Bethesda VR was very cool.
We are big fans of Fallout – so we can't wait to get our hands on Fallout VR. Even better it will be on the HTC VIVE, let's hope we get to try out a demo before 2017.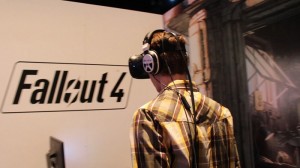 Picture credit: Itechpost
Upload VR E3 Party – Sponsorship & Thank you
As a team we were really excited to sponsor the Upload VR E3 Party during E3. We had such a blast partying with the industry, meeting new friends and old. We would like to say a massive thank you to Upload VR for showing us a great night in LA and looking after us. We look forward to attending future events when we visit the US in the future.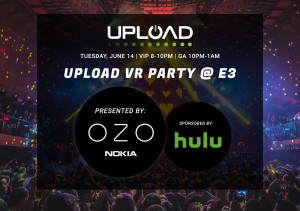 Special credit goes to the Samsung booth and getting to watch people skateboard in VR. The most enjoyable moments to watch during the event – people panicking while trying to keep some sort of composure throughout the experience. (Nah – we saw you all panic)