Moonshot – A universal motion controller for mobile VR
We are big fans of Merge VR.
It has been great to see the team's development and see the success of the original Merge VR headset here in the UK. Merge VR is available at Game stores in the UK and we had the pleasure to help them demo the headset across the UK and at events such as the Insomnia series.
This week, Merge Labs (the R&D arm of Merge VR) have announced the first universal

motion controller for mobile VR, it's got a cool name too…
Moonshot.
The controller is compatible to work with Android, IOS, Unity, WebVR, HTC Vive, Oculus and Samsung Gear VR.
Check out the video below for more information:
Moonshot is going to be available for developers very soon and Merge Labs are encouraging developers to keep an eye out on the website for information coming soon.
Additionally, this week Merge VR announced that the Merge headset has now been approved for children aged 10+ – find out more here.
We have worked with a number of education projects and we are currently working with Hampshire Libraries on a county-wide tour of the libraries, showcasing VR storytelling.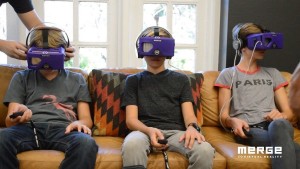 We are excited to introduce the Merge VR headset to a younger audience during our Library tour.
We are looking forward to seeing more developments from Merge over the next couple of months, perfect timing for Christmas. It will be great to see which developers start creating content using the new controller. Being able to touch and reach out in VR is the next step for stand alone headsets and it's great to see Moonshot being available for all platforms.