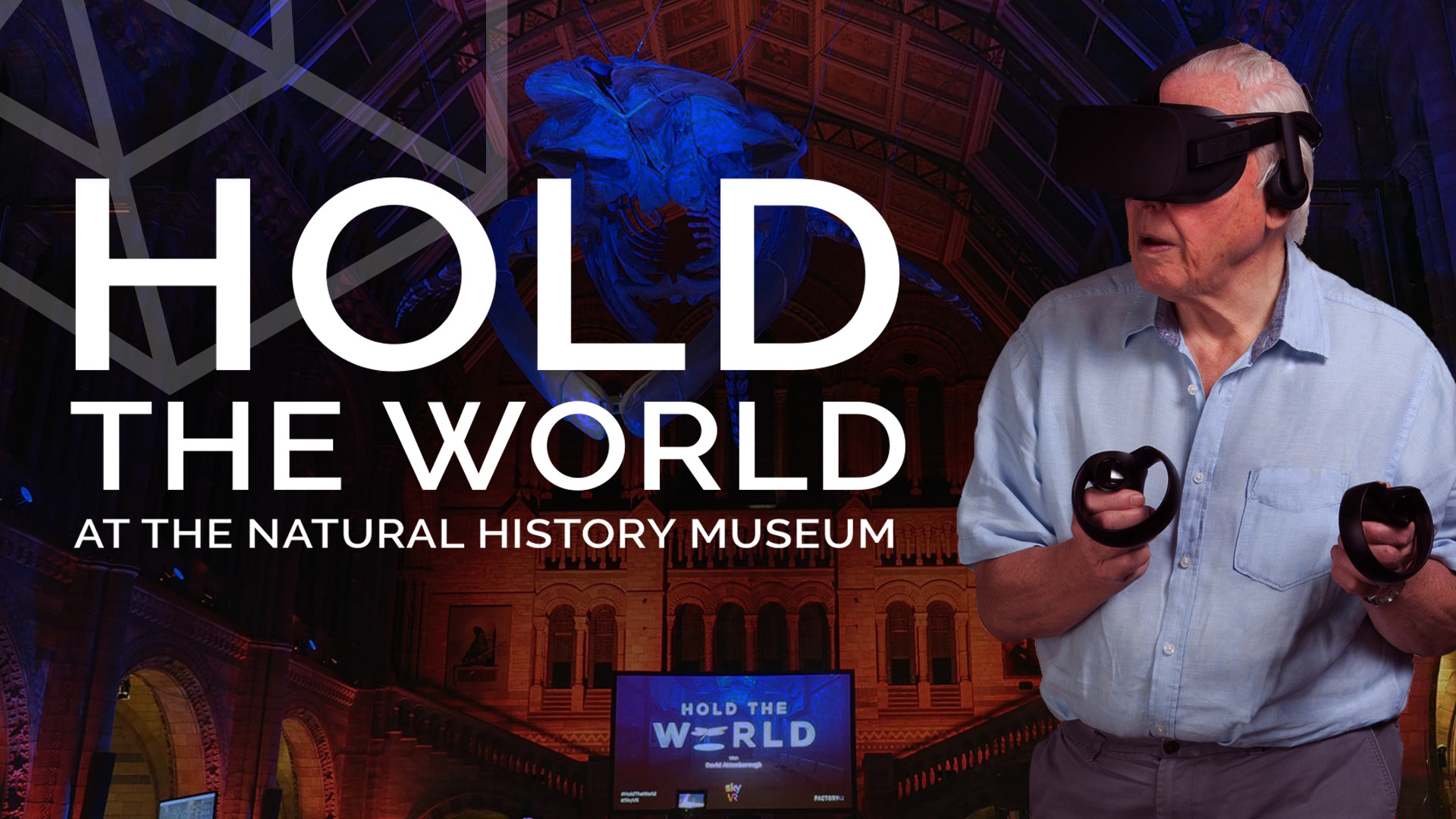 I'm at the Natural History Museum. David Attenborough's about six feet away from me. I've got an Oculus Rift headset in one hand and 10 spare batteries in my back pocket. Someone pinch me.
Earlier this month, we were thrilled to work alongside Blue Hire LTD as VR technicians for the launch of Sky VR's 'Hold the World' experience, held at the breathtaking Natural History Museum. Not only did we help install and oversee over 20 custom-made Oculus Rift stations amongst ancient skeletons and rarities, but – most exciting of all – we played host to a visit from Factory 42, Sky VR staff, and Sir David Attenborough himself.
Our work across the night involved setting up/taking down all of the Oculus Rift booths, testing them, providing ongoing technical support to Sky VR's demoers, and answering any detailed technical questions our audience might have. Working on such a large scale also meant bringing together our extended Virtual Umbrella staff for support. It was great to have the team all together for a night.
As soon as we arrived, we were struck with the awe-inspiring beauty of our location. More than ever, we were aware that this job wasn't just about the *technical*. It was also about the aesthetic. Sure, we had to make sure everything worked. But more than that, we were there to facilitate an uninterrupted evening of wonder, allowing the space and the experience do to their magic.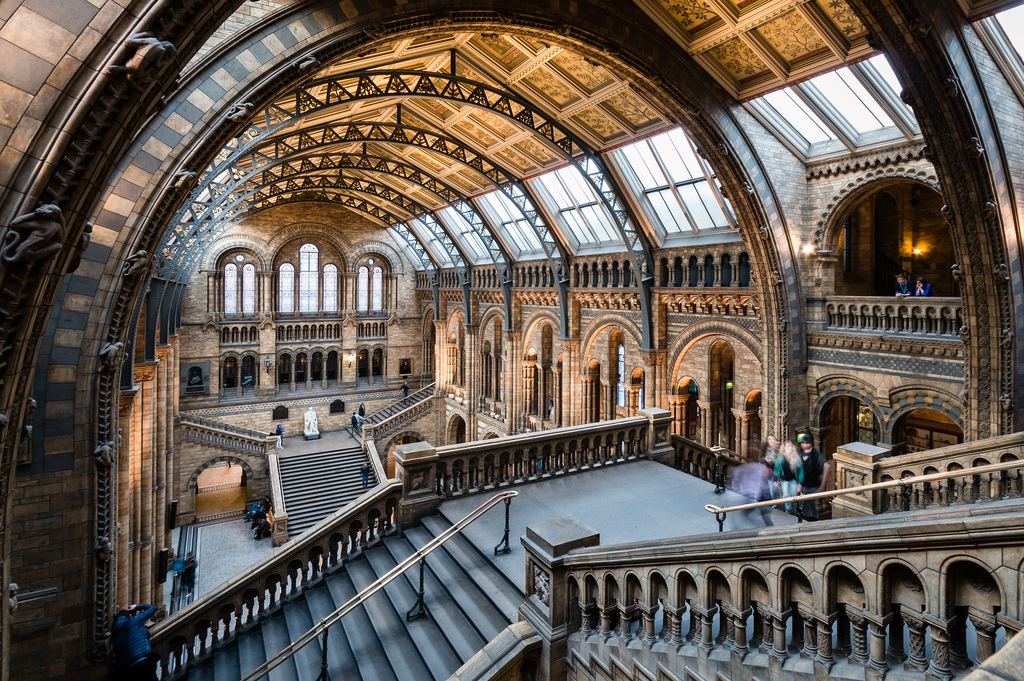 Our work was made all the more rewarding because we were demoing such a high-quality VR experience.
First of all, its content was top notch. 'Hold the World' allows viewers get up-close-and-personal with some of the Natural History Museum's rarest specimens, and gives you unprecedented access to some of the museum's 'secret' backrooms. Even better, a hologram of Sir David Attenborough is there to talk to you about the items you're viewing, providing his classic combo of wit, wisdom, and blue linen shirts. It's an adventure into educational accessibility, helping to demonstrate VR's uncanny ability to bring experiences normally reserved for the few to the many. In the words of Sir David: 'This is a way of getting to know an object in a way that has only been the privileged right or possibility of distinguished scientists.'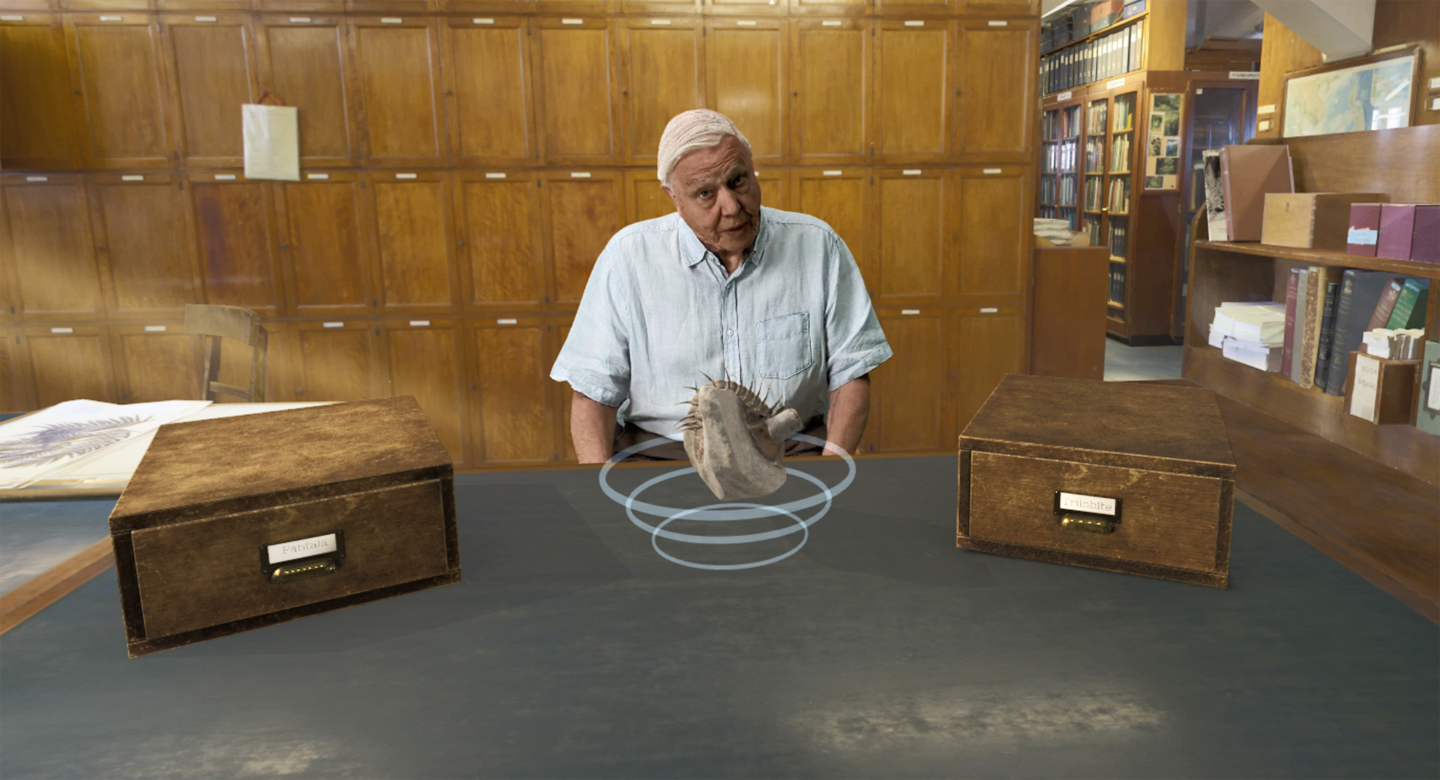 The experience's technical prowess was also impressive. Combining photogrammetry, volumetric capture, and scanning, Factory 42 and its partners pulled out all the stops to build something fully interactive and immersive. Sir David himself noted how advanced their volumetric capture process was, flying out to Microsoft's offices to be filmed by 106 cameras (although he was comically unimpressed by the amount of hairspray needed to keep wisps of hair from interfering with the delicate process!).
Having tested the experience myself, I can say that the virtual, holographic David has all the charismatic presence of his real-life counterpart (if not the witty comebacks). I even found myself keeping eye contact with his virtual self so as not to be rude! And, as always, the better the level of interactivity in VR, the more mischief I'm tempted to get up to. So there was plenty of throwing whalebones about and seeing what sound a pterosaur skull makes if you drop it from a great height. (In my defence, the developers themselves stated that the experience was designed to encourage tactile playfulness!).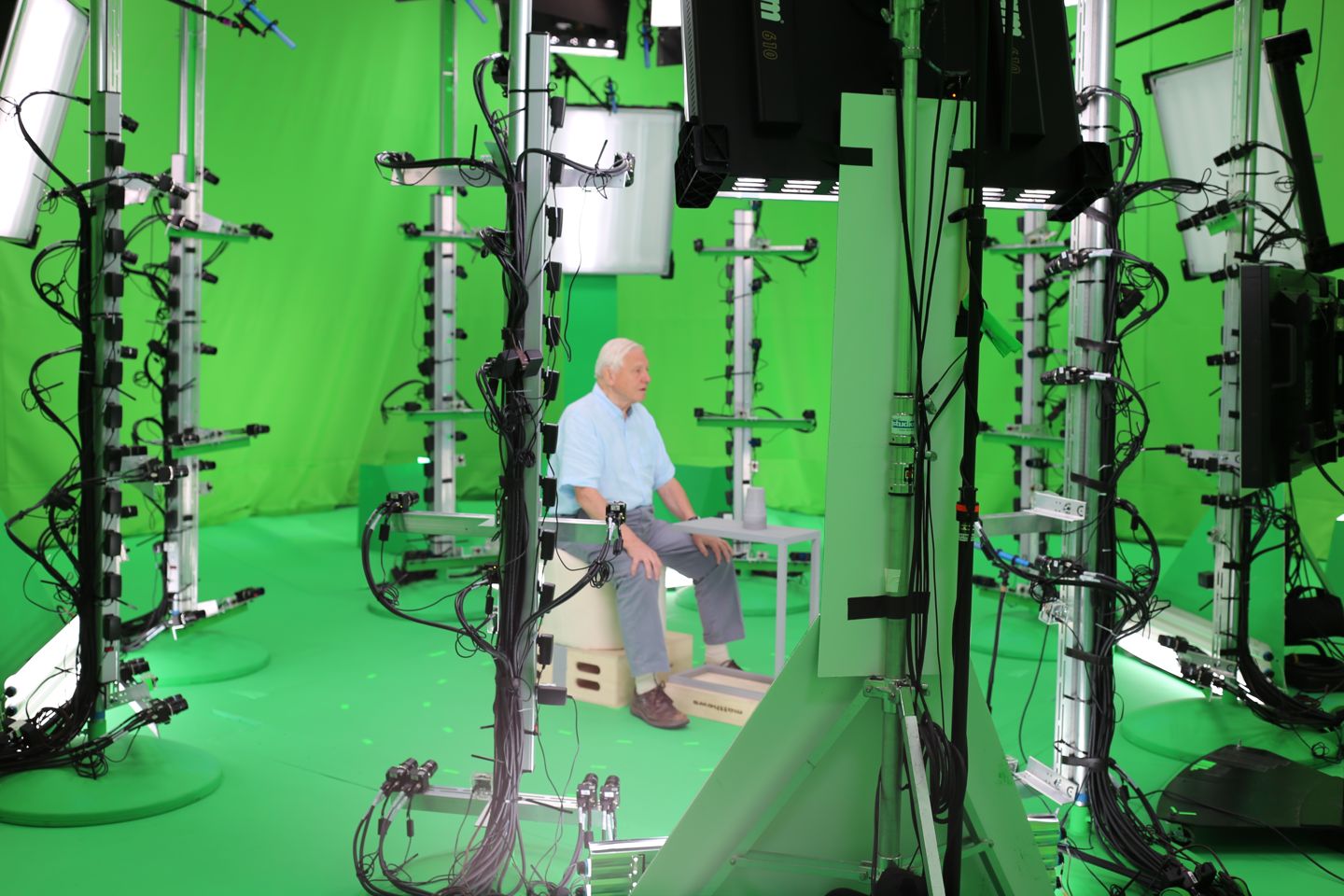 The experience itself was commissioned by Sky VR as part of the Spring relaunch of their 360/virtual reality app, available to Sky's VIP customers. Building up an impressive slate of VR/360 content, Sky is quickly emerging as a major player in the VR content scene. We can't wait to see how they develop as storytellers and technical pioneers. (Watch this space!).
To round off, here are some of our favourite quotes from Sir David from across the evening.
'

Sharing my passion for the natural world is something I have done for many years through different technologies, from the days of black-and-white TV to colour, HD, 3D, 4K and now virtual reality'

'The real excitement comes when you've got three dimensions. The things start turning around and you look at it from different angles.'

'I have enjoyed helping people to discover more about the natural world, and Hold The World offers people a unique opportunity: to examine rare objects, some millions of years old, up close. It represents an extraordinary new step in how people can explore and experience nature, all from the comfort of their own homes."
Last but not least, sitting on stage besides his collaborators, Sir David said, 'I am delighted about what users can learn and discover from the Natural History Museum's treasures in this new VR experience – it really is one of the most convincing and bewitching experiences that the world of technology has yet produced.' Having spent an evening doing our part to bring that experience to the world, we're inclined to agree.