Hi my name is James, I am currently doing work experience with the great team at Virtual Umbrella. I am an advertising student from Southampton Solent university, and I am hoping this opportunity will show me what it's like in the big bad, world of marketing and hopefully i'll get to see loads of cool technology. But enough about me lets talk about last nights meet up.
As first days go, it was a pretty good one. On the 16/03/2017 Virtual Umbrella held a local VR meet up and my task was to help with set up and just get stuck in and involved with all the new displays of VR software and the games that were on show.
We had 3 different demonstrations on the night. The first was one of our own Oculus Rift headsets playing Robo Recall, a futuristic shoot em up game with some cool matrix elements to it, with awesome slowed bullets and the ability to dodge and catch bullets at will. Everyone who attended gave it a go and loved every second. The neighbouring table had something completely new on display.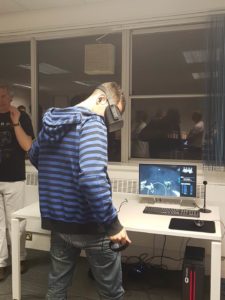 This was a game developed by XMPT Games called Out Of Office. An escape room game where you are tasked with finding the blueprints you need to escape the room and complete your mission. Even though this game is still in alpha, it was one of the most polished alphas I've ever played. When you first put the headset on you are treated to a beautifully crafted room with a voiceover telling your mission. The voice acting was great with some quirky dialogue that helped you move through the game hint by hint. Overall it was a great concept and lots of fun to try out. Just like Robo Recall everyone gave it a go and had a great time with it, and we are thankful they brought this in for everyone to try out.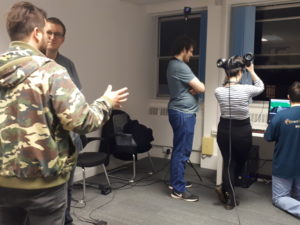 Last but not least, a piece of VR development software with huge potential to be used from anything from schools to businesses. Made by Construct Labs, they have developed a programme that allows you to build and programme anything you want for VR in VR. Again, this is another product still in development but when trying it out, you can really understand the potential. The controls were simple, once the headset is on when you look at your left wrist you will see a menu list allowing you to do all things you would like to do in you VR world, you can add many things from the long list of items to make you scene the way you want it to be. I spent most of my VR time playing on this programme just messing around with anything I could find and setting up my VR room. I was even shown how to program these objects to turn them on and using a clever button system which made it very intuitive and easy to use. Overall a very exciting product and I'm sure we will hear more of it in the coming future.
To sum up the night, with a mix of great conversations new tech/VR showcases and an ice-cold drink you can't go wrong and as my first day as an intern goes I can't say you can get any better than that.