The Alternative Top 50 VR People To Follow – 2019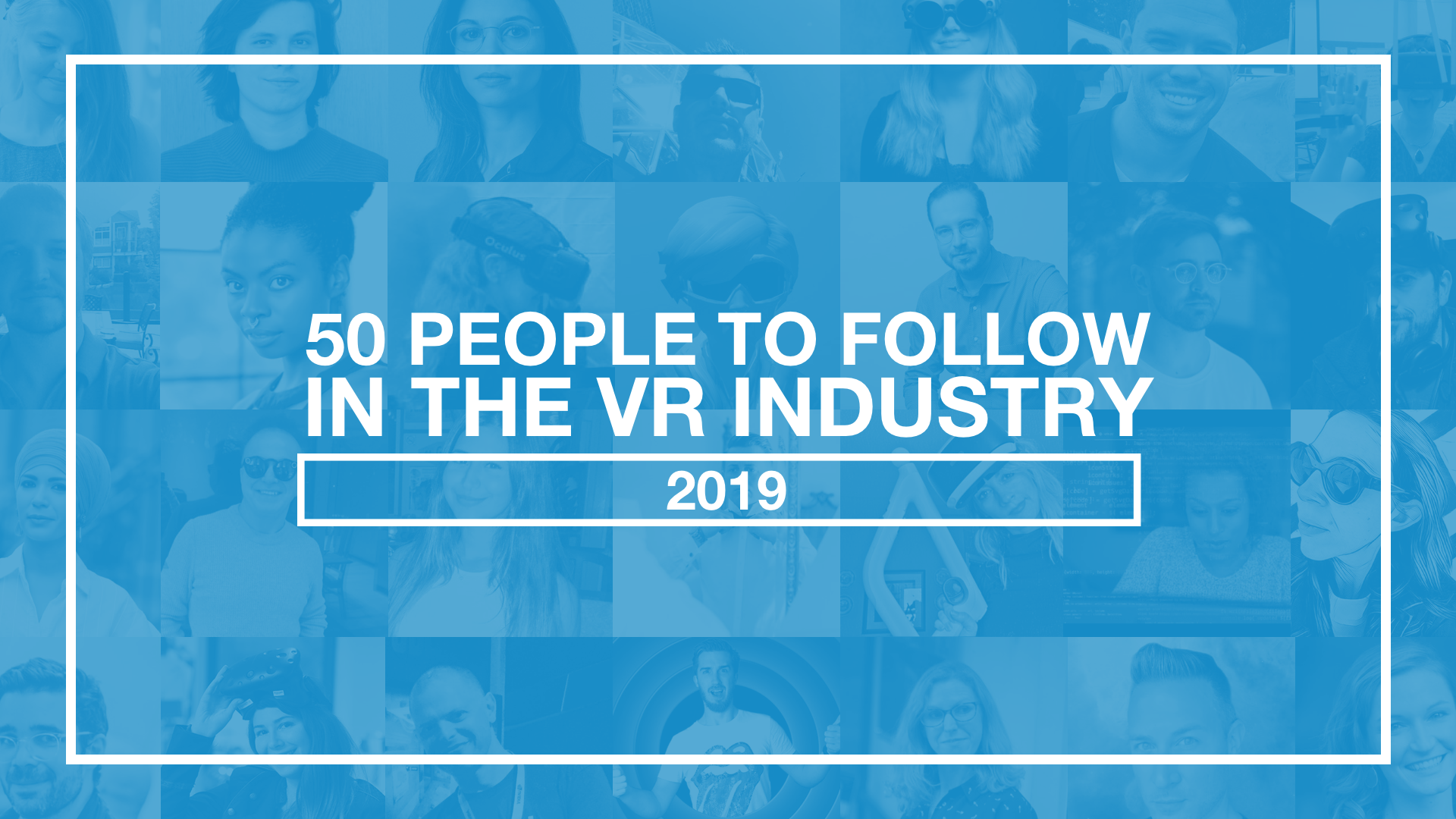 Every year, we sit down and get to work on creating a list of inspiring people within the immersive technology space.
We have one rule – no one should be on the list twice. So please go back and see our list from 2018, or our list from 2016 (oops we missed 2017).
We've tried to put together a range of people, who make VR, promote it, talk about it or inspire us. To be clear, this list is based on our personal experiences and who we look up to in the industry, not vanity metrics.
---
So, let's get into it. Here are the top 50 people you need to follow in the VR Industry:
Jesse is all about creating a thriving community for VR enthusiasts. Which is why he launched VRChat, a platform that allows you to explore virtual worlds with 50,000 people around the world.
Jessica is an immersive director known for her pioneering techniques in virtual reality filmmaking. Her recent work, "World Tour" with Google was the first VR film created using the jump platform. She is a Director at 'm ss ng p eces' and recently launched her own immersive content company, vrai.
Currently, at Google, Mike is a designer for headset displays and other immersive wearables. He recently launched a side project, combining at 3D scan with an MRI – allowing him to look through his head, into his own brain – check it out.
As well as being a leading voice on Virtual Reality on his social media platforms, Tom is an investor in VR/AR with Super Ventures and founder of AWE – the global conference championing VR/AR.
Alban is the Co-founder and CEO of Sketchfab – the largest platform to publish and find 3D/VR/AR content. Sketchfab has partnered with the likes of Google, Apple, Facebook, Amazon and Microsoft.
Based in Silicon Valley, Josh is the UX Lead for WebVR/AR Google working on multiple products innovations across the company. Previously he was the VR Lead at Mozilla and the creator of AframeVR – a web framework for building VR experiences.
By day, Max is a VR researcher, and by night he's created NormalVR – a VR shop allowing content to be sold and distributed. He built a similar product, Relative Wave which was acquired by Google. Max has collaborated with the likes of Lady Gaga and Bjork on immersive experiences.
Aside from being a BAFTA winner, Iestyn Lloyd is the founder of VR Brighton, a group for VR enthusiasts based in and around Brighton. He is also the CTO of Future Visual, which creates immersive experiences.
Sam is a real-time programmer and XR Developer at Make Real working on building immersive experience for training and employee development. Sam has spent time working with REWIND as a developer.
Charity, through her project "Go Back Fetch it" is on a mission to tell the story of the human race from the beginning leading to now episodically, exploring the origins and misconceptions of the human race.
Rogue is an XR developer and immersive installation designer based in New York City. She builds experiences at the intersection of art and tech. Most recently, she worked on an installation for the Where Thoughts Go: Prologue premiere at the Tribeca Film Festival.
Through her multi-disciplinary multimedia approach to tackle projects about women's and LGBTQ+ rights, subcultures, fashion, music and technology, Darragh only creates work she truly believes in. Darragh is an exhibit curator working on immersive installs and set design.
Lucas an award-winning immersive director and creator of Where Thoughts Go – a VR experience which creates emotional moments between players, to change the way we interact with technology and make it feel more human.
Clorama is part of Facebook's RPM program and in partnership with Oculus, has launch Debias VR – which trains people within virtual reality without any bias. Funded by Oculus,  Teacher's Lens (a product of Debias VR), uses evidence-based training simulations in VR – promoting healthy classroom environments.
Luke is the Head of Innovation & Partnerships at Philharmonia Orchestra, which leverages immersive technology to connect with a growing audience beyond the traditional Concert Hall. His tem has worked on many cutting-edge projects from iPad apps to touring large-scale immersive installations.
As one of the first europeans to experience the NASA VIEW VR system in 1987, and having established the first industrial VR team at the UK's National Advanced Robotics Centre, Professor Bob Stone is a VR pioneer. Most notably, his work with the Royal Navy won him an award for his contribution to Defence Science and Technology from the Chief of MoD.
Sam is the Founder and CEO of Admix.in – a non-intrusive ad solution for XR which empowers VR/AR developers to monetize their content through interaction brand placements.
Verity is a senior lecturer for Virtual and Extended Realities at the University of West England based in Bristol. Verity is a member of The Digital Cultures Research Centre which studies the meaning and uses of media technologies in everyday life.
Sarah is interested in creating vr experiences across the arts and health sector. As the founder of Hatsumi VR, she leads the company to create powerful experiences with exciting brands across medical and healthcare.
At age 9, Yeva is the youngest on our list. She's also the youngest VR developer, having learnt to code at 5. She's a contributor to Code In VR, an initiative led by Yeva and created by her parents (Angela Patterson & @Keith Patterson) to encourage kids to learn to code. Check out a VR experience Yeva made with Google Doodle.
Working as an XR Creative developer, Pilar has recently launched the David Bowie AR Exhibit at Planeta New York.
Having worked in Immersive tech and entertainment for over 20 years, Stephanie is a veteran and thought leader within the industry. Stephanie is the Lead at Yale University for Blended Reality research.
With an audience of 40,000 subscribers, Mike aka VR Oasis creates VR gameplay videos. He is also the Host of popular VR podcast, FReality.
ZIM VR is a Twitch VR streamer and game critic with a following of over 14,000 fans producing live content on Oculus, Vive and PSVR. ZIM is the producer of popular VR podcast, FReality.
Known by his online persona Rowdy Guy, the Belgian VR YouTuber has amassed over 112,000 fans across the globe. He is also a member of the popular VR podcast, FReality.
Netherlands based duo, Cas and Chary consider themselves as passionate VR Adventurers, creating VR gameplay and tutorials on their growing YouTube channel.
As a Research Scholar at MIT's Open Doc Lab, Sandra is exploring XR and its effects on the brain. Sandra is also running MIT's first VR/XR course, leading the way for future leaders in the space.
Nathalie is the creator of UTurn VR, a virtual reality experience which tackles gender inequality in the workplace. The experience allows the user to discover the gender divide within technology startups from both as male or female perspective based on real experiences and stories.
Aside from being known for her inspiring and powering talks on inclusiveness in the journalism industry, Zahra heads up Al Jazeera's immersive media studio, Contrast.
Laura is the Director or Journalism 360, an initiative to accelerate immersive storytelling in news. It provides knowledge on the immersive tech space, and connect brave and forward-thinking publishers with leading VR studio's.
As Commissioning Editor at the BBC for Virtual Reality, Zillah has worked on a number of award-winning projects. Zillah is also the author of Reuters Journalism Institute Report highlighting the importance of VR within News.
At the helm of one of the most respected news outlets on the planet, Graham's role as Director of Immersive and The New York Times is to take their brilliant digital work to life with AR articles – such as this piece looking at Olympians.
Julia works within the Immersive Media team at YouTube trying to bring immersive technology such as virtual reality to the billions of people who consume video content on YouTube.
Starting out as a content creator on YouTube, Ryan Wyatt, known as Fwiz eventually took on the role as Head of Gaming at YouTube. He's since led the adoption of VR onto the platform and is an integral part of bringing VR to the masses via the web's largest video platform, YouTube.
Having previously been at Unity3D, Todd now works at Vreal, the world's first broadcast platform for VR entertainment. It allows you to record, stream and share VR experience with viewers watching in VR headsets of 2D Screens. Todd also organises a monthly meeting with VR enthusiasts in the Seattle area.
Lauren is working at Oculus developing their VR for Good initiative. Oculus' VR for Good program aims to support content creators, influence innovators and inspire their partners to make the world a better place.
Just like how Amazon revolutionised selling books and then selling pretty much anything, they're now taking on the AR/VR industry with their product, Sumerian. Kyle is the General Manager and is building a tool to allow anyone to build AR/VR apps with very little technical expertise.
Stephanie is Director of Communications for VR Toronto and FIVAR Stories – both regular conferences and meetups based in Canada to make VR accessible, and tell stories using immersive technology. Stephanie is also a tech and video game reviewer.
With a love for education, Maryam is the founder of XR Portal – a database containing the largest amount of educational XR content. Maryam is also a strategic advisor and consultant to early-stage companies, specialising in companies within the immersive technology space.
Passionate about supporting and nurturing companies and talent within the immersive tech industry, Marco co-founded The VR Fund, a Silicon Valley-based fund that supports early-stage AR/VR startups.
As co-founder of AR/VR Academy, Liv encourages her community to advocate and champion diversity within the space. ARVR Academy shines a spotlight on people working in the Immersive technology sector through their mentor program.
Tyler is the Founder of Tesla's AR/VR division, working across it's Motor and Energy businesses' to use immersive technology to better their performance and create unique experiences for their forward thinking and bold customers.
Siciliana is the creator and designer of Ice Breakers, a multiplayer mobile AR game and the Director of ARVR Women's Futurist in Residence program that puts state of the art AR headsets in the hands of women of color artists.
Navah is passionate about creating Social Augmented and Virtual Realities, and how people can use the technology to empower and connect them around the world. Navah is a keen blogger on Medium talking about social ARVR.
Jason creates award-winning stories such as a VR museum exploration with Sir David Attenborough, and "Fossil Hunters of the Gobi". As well as creating his own films, Jason is also a creative director on a number of projects and regular speaking at conferences around the world on VR.
Dr. Helen Papagianni, known as the Augmented Human, is a recognised leading expert in AR and VR. With over a decade of research in the field, she is the former Chief Innovation Officer at Infinity Augmented Reality Inc. and Senior Researching at York University. Helen has a number of Tedx talks and is a multi best selling Author on the topic.
Jon is the Director at Google AR/VR, which has produced award-winning content, software and hardware. Previously, he was the Lead Designer for Google Search and co-founded the popular design style, Material Design whilst working at Google.
Rafa is the VP for AR/VR Hardware at Facebook challenged with building a product that can be used by its billions of users to cement the business in the immersive technology space. Based in Silicon Valley, Rafa been involved with launching Facebook Portal, it's Alexa enabled smart hub.
Marcus is taking on the $10.2 billion global military simulation and virtual training market with his business, ARVR Ventures. He links some of the most innovative AR/VR companies with Military organisations. Previous, Marcus was the Senior Advisor to HTC for their VIVE product and launched his own Global search Advertising company.
Known as VoodooDE_Gaming online, Thomas is a German VR YouTuber discussing tech updates and posting VR gameplay videos. His weekly VR tech review is watched by thousands and aims to simplify the technology and make it accessible to the masses.
---
Thanks to everyone on the list for the amazing work you do to better this industry.
If you think we've missed someone, tweet us and tell us who + why.