Bringing context to art with artificial intelligence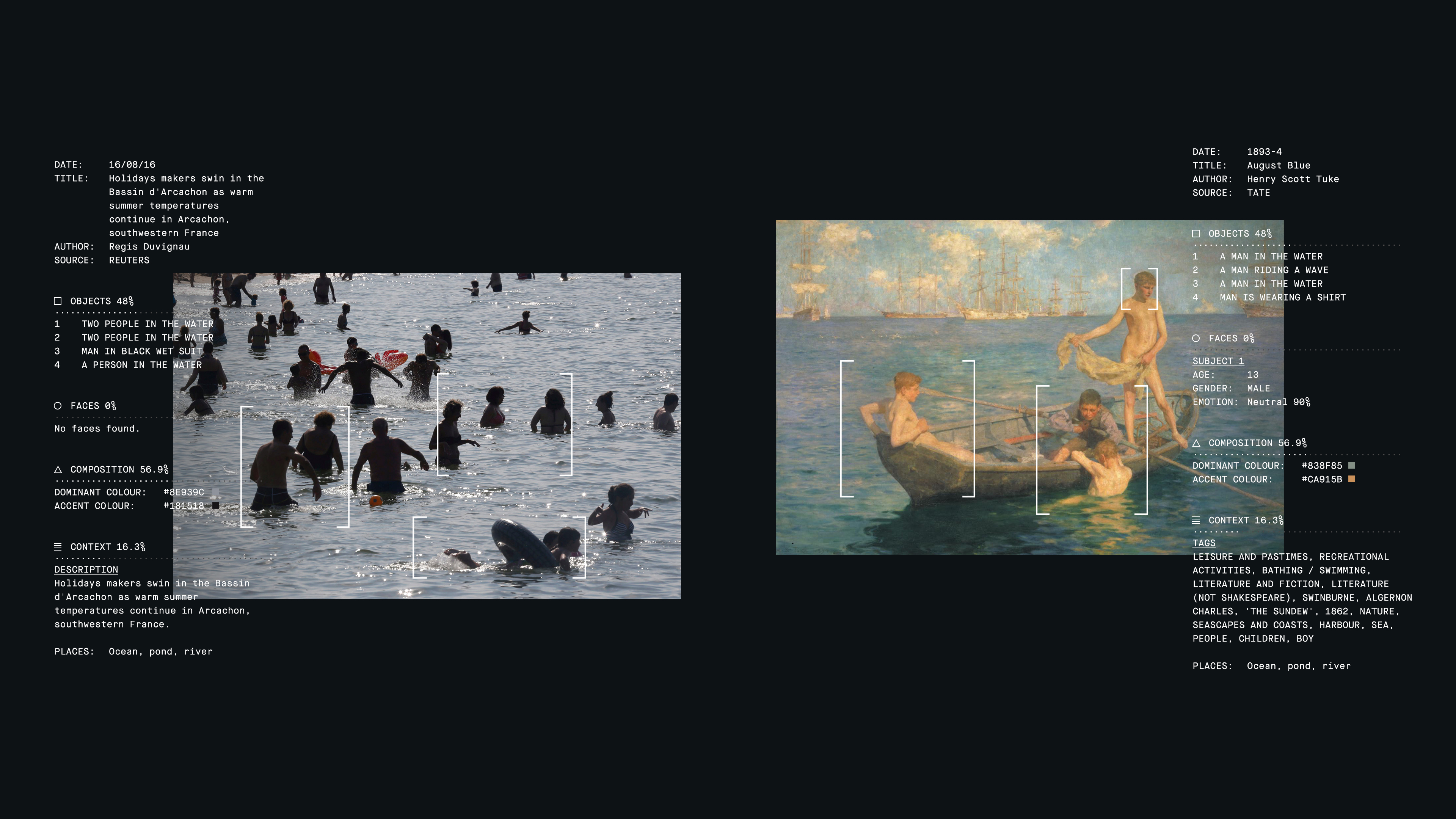 Earlier this month, I was kindly invited down to Tate Britain to see 'Recognition', an artificial intelligence programme that compares live Reuters photojournalism with art from the Tate collection.
The AI programme, earned a place at the Tate Britain by winning Tate's 'IK Prize 2016 for Digital Innovation'.
This year, the IK Prize partnered with Microsoft to invite digital creatives to propose an artificial intelligence programme that would explore, investigate or 'understand' British art from the Tate collection in a new way. The winning team, Fabrica, received a tidy £15,000 prize and a £90,000 to create 'Recognition'.
Recognition uses a number of AI technologies from Microsoft's Cortana Intelligence Suite to conduct it's comparison of images, including computer vision, facial recognition and composition analysis. It then also uses natural language processing to interpret any text in the image and to understand the tags assigned to each image. Recognition can then go further, using contextual analysis and it's computer vision to assign new tags to the image based on what it sees.
The image below shows the numerous different comparison elements running as the AI attempts to the understand the imagery and find the best companion art from the Tate's collection.
Alongside the screen showing Recognition's live 'thinking' there is a touchscreen allowing guests to compare photos and art too. This human comparison will then be used to retrain the AI to help us understand how an artificial intelligence can learn from hundreds of personal responses and if it affects the outcome of the previous comparisons.
The result of this retraining process will be the creation of two virtual galleries showcased online. The first being Recognition's choices of companion images. The second being Recognition following the introduction of human personal responses.
The exhibit is open until the 27th November.
If you're in London, you really ought to drop in and see it!
Imagery credits: 
Fig. A)
Eunuchs apply make-up before Raksha Bandhan festival celebrations in a red light area in Mumbai, India, August 17, 2016. REUTERS/Danish Siddiqui TPX IMAGES OF THE DAY
Sir Peter Lely
Two Ladies of the Lake Family
c.1660
Tate. Purchased with assistance from the Art Fund 1955.
Fig. B)
IK Prize 2016, Recognition, Tate Britain
Header Image) 
Holiday makers swim in the Bassin d'Arcachon as warm summer temperatures continue in Arcachon, southwestern France, August 16, 2016. REUTERS/Regis Duvignau
Henry Scott Tuke
August Blue
1893–4
Tate. Presented by the Trustees of the Chantrey Bequest 1894.
Big thanks to Microsoft PR for inviting me to the exhibit. It was genuinely awesome.
I received no financial incentive or compensation for writing this blog.