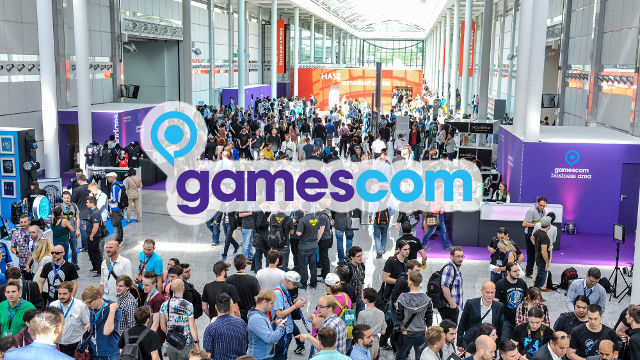 Last week it was time for Gamescom, Europe's largest games convention held in Cologne, Germany which was open to the public from Thursday 18th through till Sunday 21st. Unfortunately, none of the VU team could make it to this year's event where many of the key industry players were showing off their latest VR games and new hardware features. However, we've kept our eyes and ears open for exciting news and announcements and evidently taking the spotlight this year were the big industry names; Oculus Rift, HTC Vive and Sony with its PlayStation VR.
PlayStation VR
It's safe to say that the PlayStation VR head-mounted display and its accessories made a big impression at Gamescom, much like it did at E3. Sony showcased a whole range of games for visitors to try out ahead of the forthcoming release and it was listed as the winner for the category of Best Hardware.
Oculus Touch
Available for demos at Gamescom was the latest version of the Oculus Touch motion-tracked controller which is reportedly at its near final iteration and will be released before the end of 2016, so just in time for Christmas.
Oculus' Head of Content, Jason Rubin, said that the latest model has better tracking range, and it's claimed that Touch can match the roomscale tracking of the HTC Vive. However, most of the Touch demos at Gamescom gave a 270-degree experience because when the player turns backwards they block the sensor's view of the controller in their hand. Rubin went on to say that while they are fully capable of supporting full 360 and roomscale, they are sticking with the plans to focus on developing for the front facing set up as it seems they have doubts about the market size for roomscale VR.
One new feature spotted on the Oculus Touch was the controller's ability to magnetise, keeping them together and upright when placed on a surface, although I have since heard that this will not be included in the final version of Oculus Touch as users
could often feel the controllers pulling towards one another.
No announcement on the price just yet though, although we're expecting to hear much more about Touch at the developer conference, Oculus Connect 3, which is to take place in October.
Ubisoft VR Games
Ubisoft took to Gamescom announcing three firm release dates for its upcoming VR titles; Star Trek: Bridge Crew, Eagle Flight, Werewolves Within, each arriving on Oculus Rift, HTC Vive and PlayStation VR before the end of the year.
The multiplayer flying game, Eagle Flight, launches first on Oculus Rift on October 18th, with gamers having to wait until December 20th to get their hands on the PSVR and HTC Vive versions.
November 29th sees the official release of Star Trek: Bridge Crew (on all platforms) which Samantha and Bertie had a great time playing at E3 back in June and which Samantha talks about in the E3 roundup blog.
Finally, Werewolves Within, a 'whodunit' style game where players are in a team and try to identify who is werewolf among them, launches on all three platforms on November 8th.
These will all be exciting releases from Ubisoft as the multi-player option may appeal more to the masses where not everyone always wants the fully secluded VR experience and many lean more towards social gaming.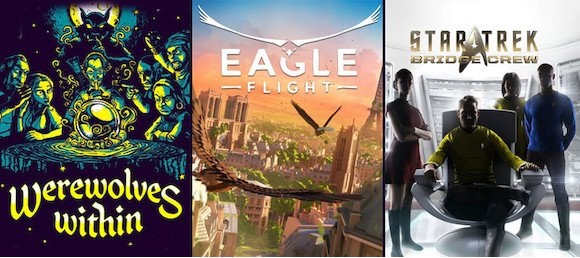 Nosulus Rift
Also by Ubisoft was a South Park game and VR facemask, the Nosulus Rift, which enables users to experience "smell-o-vision". Ubisoft said "This device, only available during conventions and not for sale, takes virtual reality to a whole new level by allowing players to enjoy South Park: The Fractured But Whole in the most immersive way possible. A new perception through a sense that has never been tickled in gaming before: the sense of smell."
The facemask is worn by players and works in sync with the on-screen actions, emitting odours when the characters… ahem… break wind. Sounds pretty gross if you ask me, but apparently it was quite a hit with visitors at Gamescom and caught a lot of attention online too. Guess we missed out on this one… damn.
Watch these guys from GameSpot braving the Nosulus Rift at Gamescom.
Star Wars VR Mission

All you Star Wars fans out there will be hugely excited for this one; Star Wars: Battlefront – Rogue One: X-Wing VR Mission (just a bit of a mouth full). Just like the previous version, players are X-wing pilots and must fight with a Star Destroyer in an intense battle ensuing from every direction.
The game is just a single mission, not a full game, but it seems as though visitors at Gamescom were really impressed with the demo and it's truly convincing effect, with some lining up to play again and again. It is set to roll out with the PSVR release on October 13th and is free to all PS4 owners who already own a copy of Star Wars: Battlefront.
Be sure to follow us on Twitter for other news and announcements in the world of VR (@VirtualUmbrella)