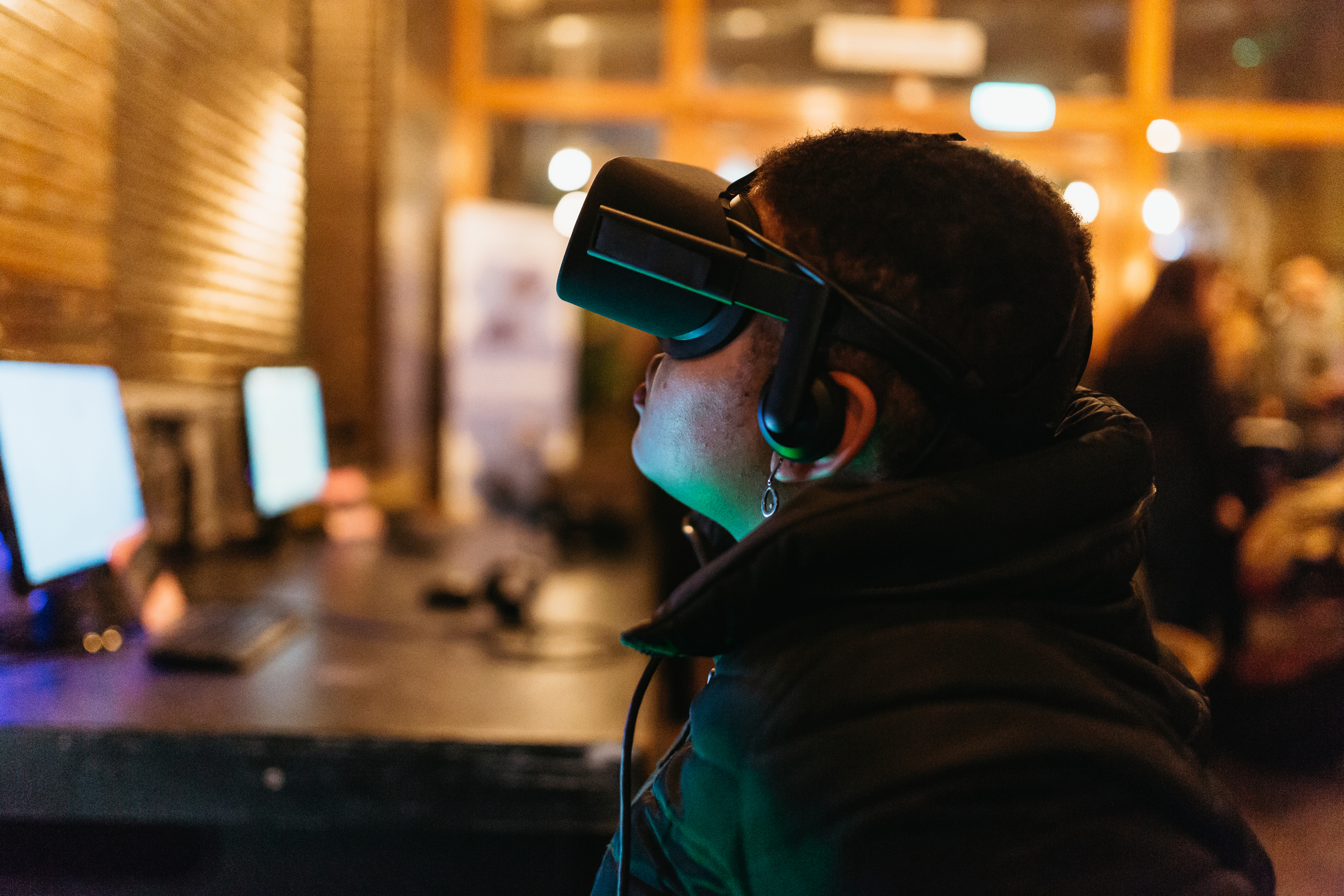 Do you want some tips for running a successful event? For those of us lucky enough to have attended a VR/AR event in the past, whether you work in the industry or just have a passing interest in immersive technologies, you will know what a welcoming, passionate and inspiring industry this is.
We are lucky here in the UK to have such a packed events calendar when it comes to these technologies. From informal meetups at co-working spaces and offices to huge multi-level shows showcasing the latest and greatest our industry has to offer in a range of different contexts, there are a multitude of gatherings you can check out if you're into immersive tech.
Here at Virtual Umbrella we have experience in running our own events, perhaps you've met us at one of our popular VR in a Bar events? Or running an HTC Vive setup at one of the international industry Kaleidoscope showcases? Either way, we have a real passion for VR events that we want to share.
We spoke to some of our friends in the industry who share our passion, to get their opinions on what makes an immersive event successful.
Balance is key
Steve Dann, is co-founder and owner of VR/AR companies Amplified Robot and Medical Realities, and co-president of the VR/AR Association. He is a true veteran, having organised many of the early VR events in London.
"In my opinion, it is bringing together the right mixture of compelling content and thought-provoking discussion."
Steve makes an important point here, discussion and sharing of ideas is the basis of any good VR event. Just think of all the collaborations forged at events that have led to new ideas, products and companies!
Provide an opportunity to learn
Rachel Dennis is CMO at Blend Media, an innovative creative platform providing content and technology to a range of industries. Rachel is responsible for Blend's renowned creator workshops, who in association with Facebook 360 aim to support and inspire the next generation of 360 content creators.   
"A very important element is to provide the opportunity to learn and collaborate, this might be in a formal workshop setup or just through getting together a group of diverse and interesting people from the industry. This isn't unique to immersive industry events but to any event, however it has greater importance in a nascent industry such as ours."
In VR there is always more to learn, and a great way to do this is at events, sharing knowledge and expertise with peers and colleagues. It is this openness and atmosphere of collaboration that makes immersive events so special.
Planning ahead is vital for a successful event
Sam Watts, Director of Immersive Technologies at Make Real, producers of a range of immersive digital products. They are long time veterans of designing, deploying and running VR activations in the events world.
"For us, whenever we deploy a VR experience that we know is to be used at an event, quite often by non-technical booth attendants, is to design it with ease-of-use in mind. This means that you have to consider the whole package from setup, operation to breakdown from the beginning, not just the VR experience itself.

How long/easy is it to setup on the day? How does it operate between users, i.e. make it one button to start, stop, reset the experience?

How long does it take to pack away and get out of the venue, as this is often a mad scrum for lift space, parking slots and fighting with all the other tired, irritable event booth attendants trying to do the exact same thing i.e. get out of there as quick as possible after a long period of time demoing!"
Sam makes some great points here. Setting up VR experiences can come with its own particular set of problems. You need to be able to be resourceful and quick thinking, it is always best to prepare for any potential issues well ahead of time.
So there you have it
We at Virtual Umbrella have had our own share of problems setting up kit over the years, from tracking issues to hardware failure to courier problems, we've seen it all! Thankfully we have always pulled it out of the bag in the end.
So there you have it, now you have some insight into the minds of some the industry's finest. Perhaps this has inspired you to check out a VR event or meetup in your area or to soak up some expertise at a creative workshop? Let us know on @virtualumbrella on Twitter, we'd love to hear from you.