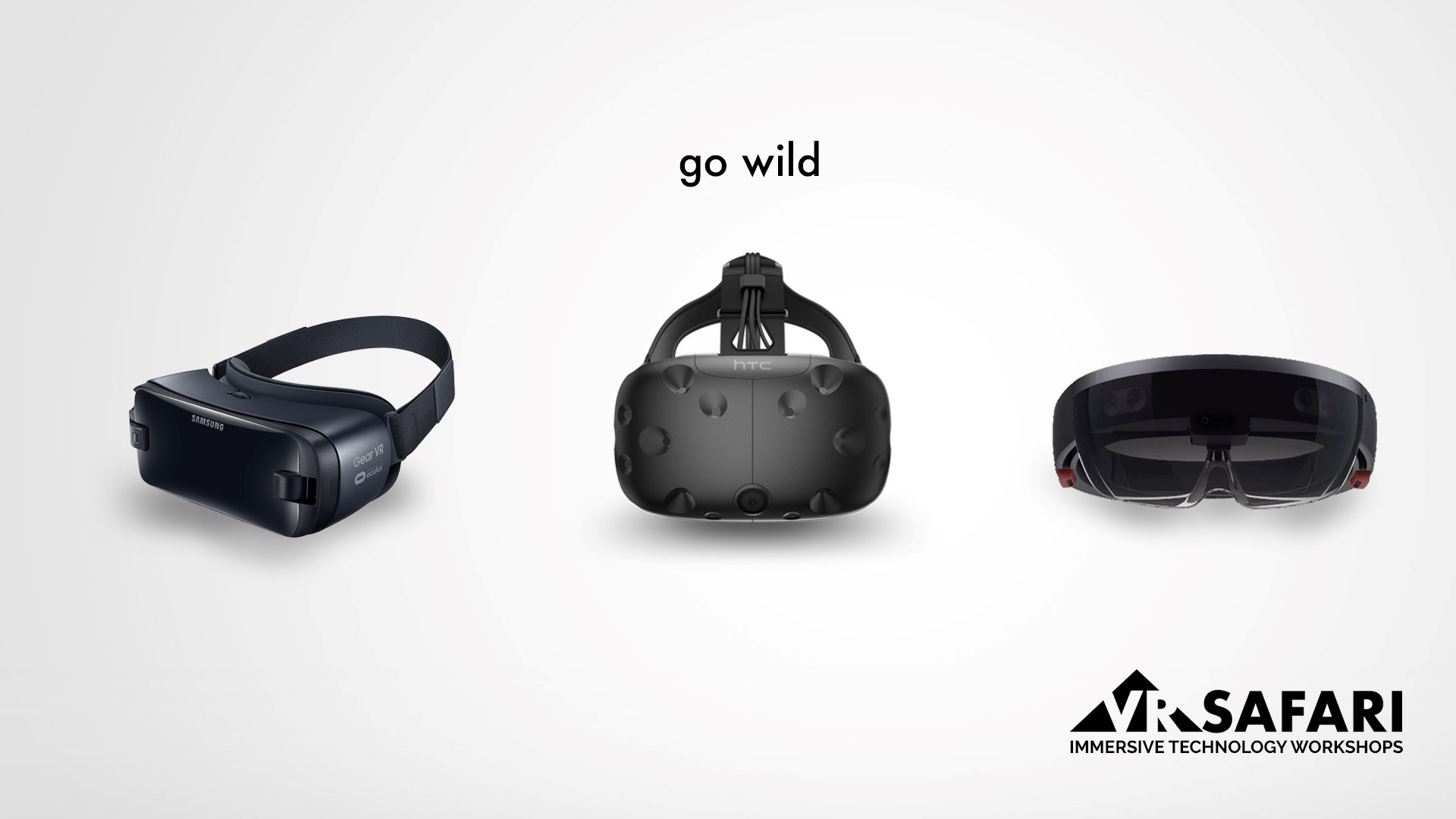 Introducing: VR SAFARI
At Virtual Umbrella, we're constantly challenging ourselves to find new and exciting ways to explore the potential of VR. It's all about asking yourself the important questions. How can we help new audiences to connect with unfamiliar tech? How do we help VR veterans to challenge and develop their existing relationship with virtual reality? How do we bring together practical demos with formal conferences? VR Safari was born.
VR Safari is a series of immersive technology workshops designed to give companies and individuals insight into some of the world's most cutting-edge immersive technology and its complex ecosystem. At its heart, it's about combining the intellectual and corporate value of facilitated talks with the no-nonsense tangible experience of practical demos. Whatever our clients need, we tailor our workshops to them – whether that means being flexible on our subject-matter, tech, venue, or timings.
It's a special kind of digital expedition – a guided whistlestop tour through the HTC Vive, the Virtuali-Tee app, Microsoft's HoloLens, Gear VR, and more. Just think of us as the technological David Attenborough.
Running workshops, showcasing immersive technology and talking about about the potential of the industry is something we have been doing for years, so we are very excited to be using our expertise to bring this brand new workshop experience to life.
How does it work?
The immersive technology workshop is a flexible programme with elements that can be swapped in and out depending on your requirements. Don't see what you want on our list? Don't sweat it. We can have a chat about making that happen.
An example of how our VR Safaris can run:
10:00am – Introduction.
10:15am – Session 1. We invite an expert guest speaker* to talk about a set topic that's directly relevant to the client's interests. (Media company? We can bring in VR documentary filmmakers. A finance institution? We'll set you up with an investor. A digital agency? We know veteran devs who can put you on the right track.)
11:15am – Session 2. A member of the Virtual Umbrella team delivers a comprehensive guide to the immersive technology industry and it's future – looking at the market, revenue projections, and selected case studies.
12:15pm – Q&A. We run a questions-and-answers session with the group (or round table discussion depending on number of guests).
Break
14:00pm – Demos. Our expert team runs hands-on tech demos with the latest hardware; including virtual, augmented and mixed reality, haptic devices and more.
*We only work with the best of the best. Our guest speakers/experts vary depending on availability and come from a range of industry backgrounds including the broadcasters, hardware manufacturers, VR/AR production companies, and many more.
Sessions topics are entirely flexible. Some of our favourites include:
Storytelling with immersive technology.
The basics of developing with immersive technology.
How to use immersive technology as part of integrated marketing & PR campaigns and events.
The current market / state of the industry.
Do and don'ts when using immersive technology.
If you'd like to learn more or book your very own VR Safari, please contact Bertie: bertie@virtualumbrella.marketing
If you have content or technology that you'd like to be included in the VR Safari, please let us know. We would love to discuss this with you!
If you're an expert in the field and are interested in speaking at our workshops, please get in touch. All of our speaking opportunities are paid gigs and we'd be delighted to partner with you.