How is it already August 2018?. We are a little late (by two months) on our six-month round-up, but have finally had a moment to stop and recap on all the great projects, events, and talks we have done so far. Already the summer months have been keeping us busy and we can't wait to see where we go in the next 6 months. Before we know it, it'll be Christmas!
Let's jump back to January 2018 and re-cap on how we started the year.
January
XR Connects
The first couple of weeks back to work in January are always filled with admin and getting ready for the months ahead; then we break out of the office, heading to Pocket Gamer Connects' immersive tech strand of their event, XR Connects. This year Bertie and I both hosted the two days – each taking a day of the track to introduce the event, all the speakers, the panels, and close the day at the end.
XR Connects is a great opportunity to catch up with friends and clients after the Christmas break and see what everyone has planned for the coming months.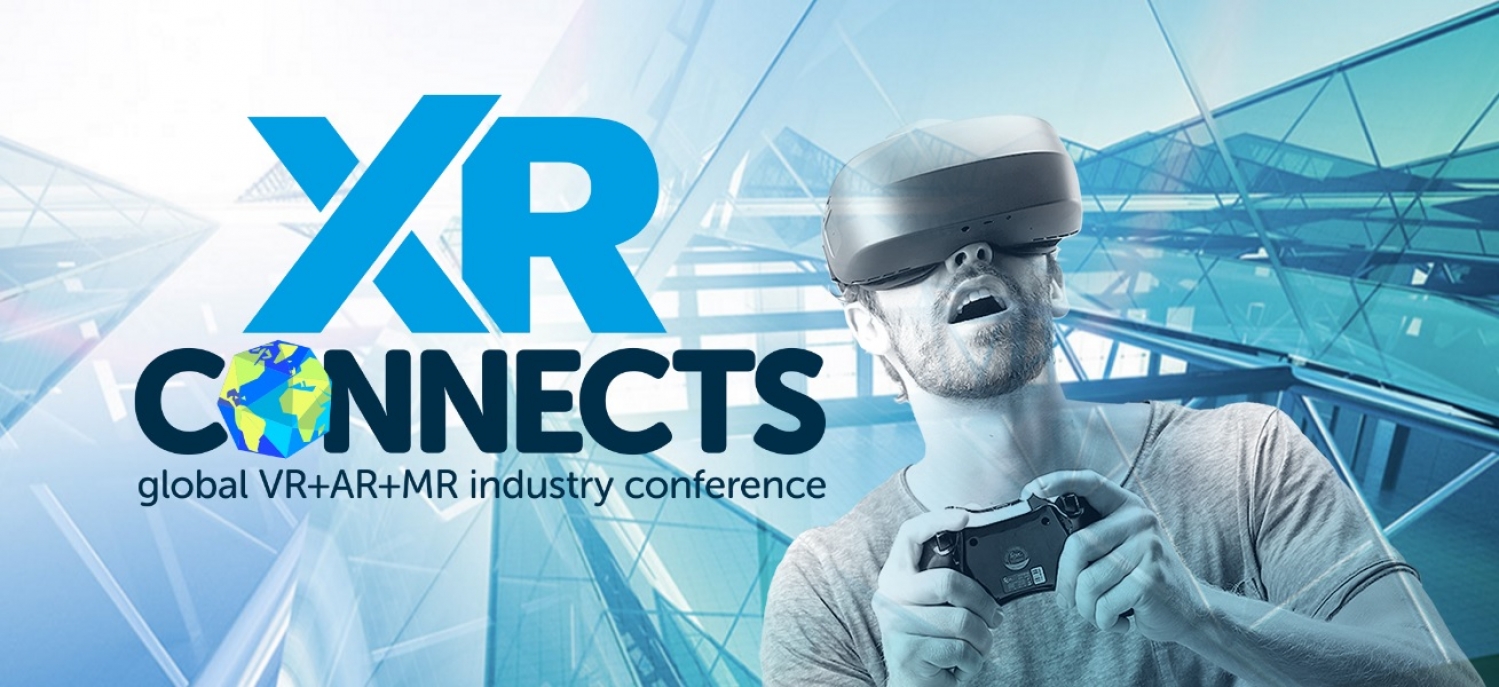 February
#IdeasMeansBusiness Talk in Brighton
I am a big believer in supporting ideas and especially people who want to start their own businesses. I was lucky enough to be able to talk at a recent event in Brighton called #IdeasMeansBusiness. #IdeasMeansBusiness is a young innovators programme set up by Innovate UK and Prince's Trust, designed to help young people develop and take forward their business ideas.
If you want to read more about the programme, check out this blog.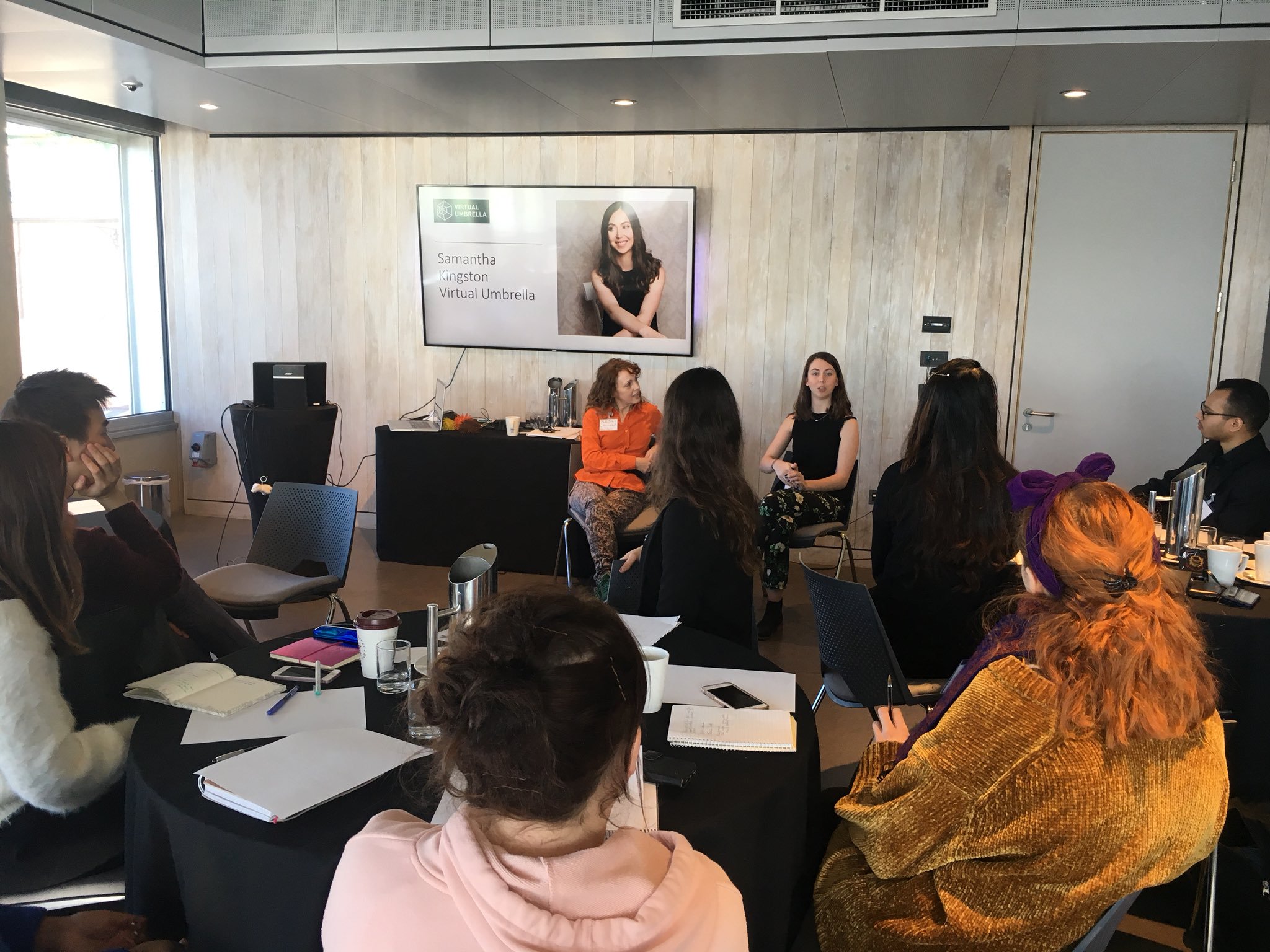 VR in a Bar in Brighton
VR in a Bar is always one of our highlights of the year – and the Brighton Edition was no exception! Thanks to our friends at The Loading Bar, we were lucky enough to be able to host the event at their brand new venue, C:/Side Quest, right on the seafront. As always, tickets were free, and attendees could try out bundles of exciting immersive experiences from companies like Curiscope, Make Real, A-VR, and more. We were especially excited to give people the opportunity to try out the HTC Vive Pro, which Curiscope brought along to demo their underwater VR adventure, 'Operation Apex'.
March
VU's Third Birthday
Our big highlight in March was Virtual Umbrella's 3rd Birthday. In the whirlwind that is the immersive technology industry, many of us often don't take the time to stop and consider how far we've come, the incredible new projects we've worked on, or the amazing friends & business partners we've made along the way. Our third birthday as a company provided the perfect opportunity to do just that – to stop and reflect on the progress of three years. We couldn't be more proud of what we've achieved, and can't wait to see what the next three years bring us!
Sky VR's 'Hold the World' Event
We were thrilled to work alongside Blue Hire LTD as VR technicians for the launch of Sky VR's 'Hold the World' experience, held at the breathtaking Natural History Museum. Not only did we help install and oversee over 20 custom-made Oculus Rift stations alongside ancient skeletons and rarities, but – most exciting of all – we played host to a visit from Factory 42, Sky VR staff, and Sir David Attenborough himself. The evening was a magic adventure into the wondrous world of natural history – complete with tonnes of witty comebacks from Sir David himself. Read our blog for the full scoop.
Sky VR's 'Hold the World' Event (Feat. David Attenborough & the Natural History Museum)
SXSW
At the annual music and technology conference, SXSW, Bertie ran one of the largest installations at the VR Cinema –  Beethoven's Fifth from the UK's Philharmonia Orchestra. While he was there, he dug deeper into some of VR's newest trends, discovered tonnes of incredible installations, and gathered insights on the best way to demo on a large scale.
SXSW is always a landmark event in the 'technology' calendar, so it was a pleasure to be there in the thick of it, experiencing some of the very best our industry has to offer!
Check out our SXSW blog.
April
Make Real event in Milan
In April, we demoed a rugby-inspired VR experience in the gorgeous city of Milan, created by our talented friends at Make Real. Inside the experience, you could 'drop kick' a rugby ball with realistic physics, using a Vive tracker attached to the user's leg and hands.
We even got the chance to show off the piece to South African Rugby World Cup winner, Francois Pienaar!
Check out our blog about the trip! 
VR Dinner
If you haven't heard about it already, Virtual Umbrella runs a series of digital innovation workshops called the VR Safari, designed to give businesses creative insight and hands-on experience with some of the world's most cutting-edge immersive technology.
In April this year, we were approached by a leading global investment firm to present a 'VR Dinner' based on the VR Safari template, with the aim of allowing 20 executives to get to grips with VR and AR technology.
Speaking at Silicon Beached
Our very own Bertie Millis was chosen as a speaker at Matt Desmier's Silicon Beached event – a conference designed to support innovation, revolutionary thinking, and creativity. Speaking alongside a dream-team of young leaders, Bertie gave his insight into one of the most misunderstood aspects of internet culture: memes. Analysing their life-cycle, impact, uses, and abuses – our MD put the record straight on all things meme.
Forbes said: "Albert Millis runs the specialist VR agency/consultancy, Virtual Umbrella but refreshingly didn't speak about VR. Instead, memes and their roots in history (and Reddit) rounded out the day. 'Judge memes critically, get ahead of the machines and reiterate…don't just repost – be genuine to you and the meme' according to Millis."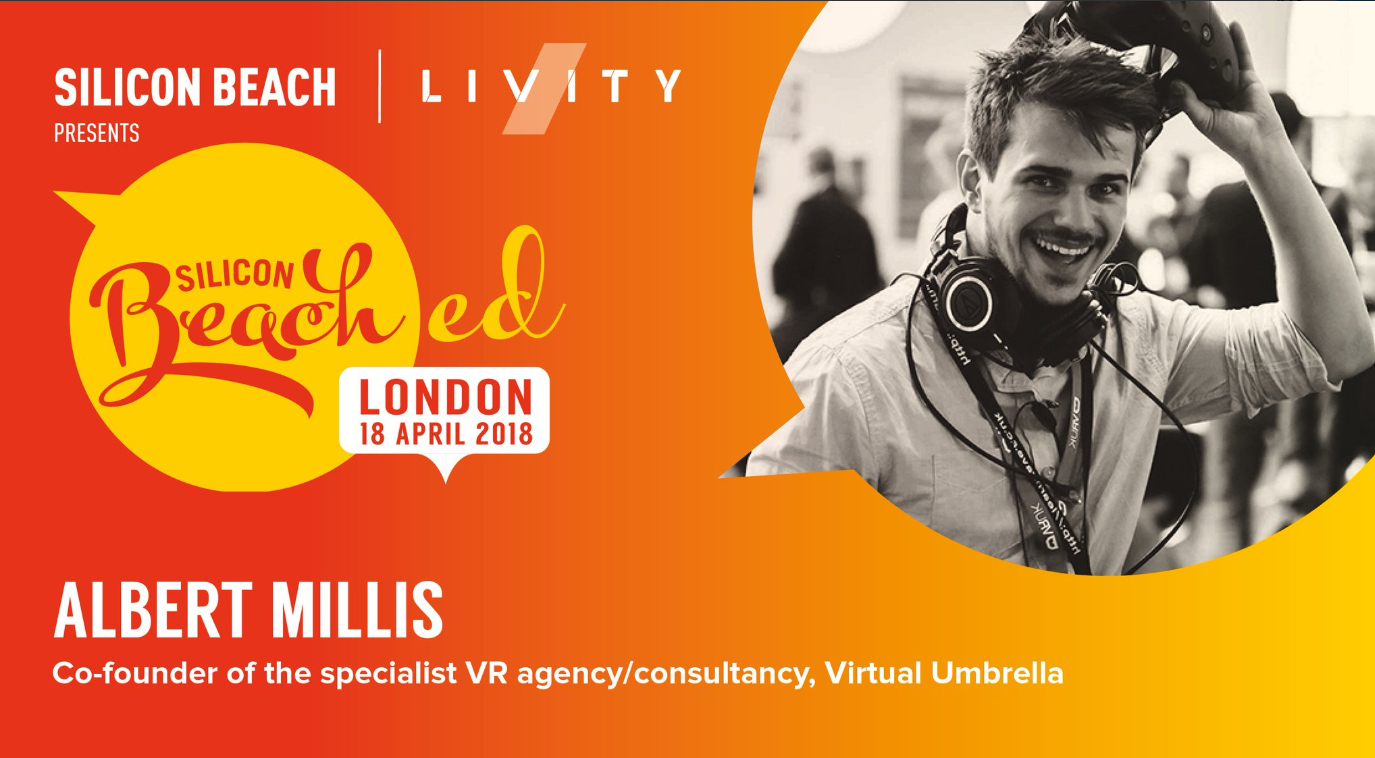 Red Cross Digital Day in Geneva 
Hot on the heels of Silicon Beached, we hopped on a plane to help host two rooms of VR and AR content at the ICRC Digital Day in beautiful Geneva. It was a great chance to present some of the industry's most moving and innovative immersive pieces, and we couldn't be more delighted to have worked alongside such a important humanitarian institution.
Demos included: 'Aftershock: Nepal's Untold Water Story', 'Ayan's Journey', 'Mamie's Dream', and more.
Catherine Rose (freelance film producer and consultant at Aftershock VR), had this to say about the event:
"It was great to be invited to exhibit and speak about Aftershock VR at the ICRC digital day. Meeting the team there and seeing the work they've done already with AR and VR was an absolute pleasure and I'm excited to see more from them.  Fantastic to see an organisation embracing digital and talking about how to prepare for tomorrow."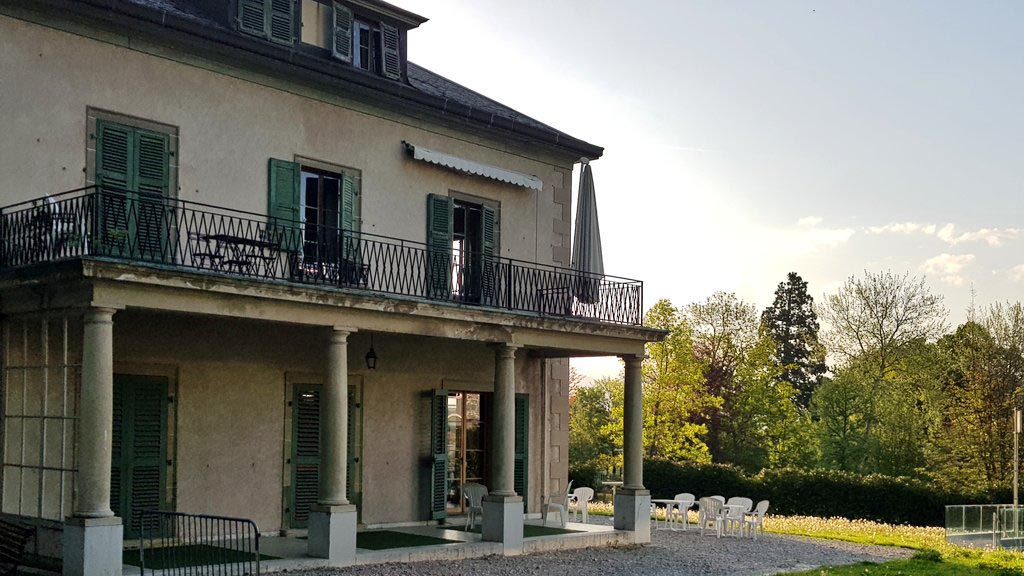 May
Philharmonia in Bergen
Created by the renowned Philharmonia Orchestra in collaboration with Inition VR & The Southbank Centre, 'The Virtual Orchestra' is a stunning VR experience aimed at classical music lovers. It transports viewers to the London Royal Festival Hall to witness a 360 performance of Sibelius's Fifth Symphony, conducted by Esa-Pekka Salonen.
This May, it was Bertie's job to help demo the experience as part of the Bergen International Festival. A particular highlight was when the event was visited by none other than Queen Sonja of Norway, who took a moment to view 'The Virtual Orchestra' experience!
 June
Sheffield Doc Fest
Sheffield International Documentary Festival is one of our favourite events! Its Alternate Realities programme is an incredible platform for immersive documentaries, and this year we were lucky enough to work with them again! As always, we love working with the team at Sheffield Doc Fest and it was an absolute pleasure to see how they've helped to pioneer the world of VR cinema and installations.
Read our blog on Sheffield Doc Fest here.  
Make Real event in Orlando
In June, we were once again working with Make Real and this time they were shipping us out to Orlando to operate alongside their clients, Investec. We were showing the Rugby Drop Kick simulator again. It was a great experience and we managed to turn some Americans into rugby fans!
Read our blog on the drop kick we did in Milan too here.
July
Augmentor 2018
We were excited to be invited back to be mentors for the Augmentor programme created by Digital Catapult. As mentors its a great opportunity to offer and share our own experiences starting a business in the industry.
If you don't know what the Augmentor is, check out the recent video.
Grenfell community and Grenfell: Our Home VR experience 
Over the course of 2018, Virtual Umbrella has been involved with several projects for Grenfell community. If you want to find out more about this particular project please feel free to get in touch with Bertie or Samantha on email.
If you have not yet seen the VR experience Grenfell: Our Home created by Parable and Channel 4 is now available to watch. If you would like to know more follow this link. 
That's it! January to August has been a busy time for us here at Virtual Umbrella but does not mean that is any slowing down. Roll on the next quarter and keep an eye on what we are up to on Twitter or right here on our blog.